News story
Exhibition of construction products that help generate £50 billion for the UK economy
The exhibition will run until the 15th April showing visitors to the BIS building and conference centre UK products including energy saving …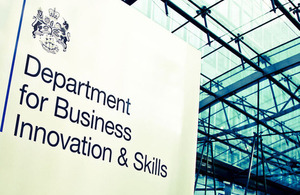 The exhibition will run until the 15th April showing visitors to the BIS building and conference centre UK products including energy saving glass, insulation products, boilers and heating elements.
It will also highlight the importance of the UK heavy products industry - aggregates, blocks, cement and brick.
The UK Construction Products sector represents, collectively, 20% of goods manufactured in this country. With an annual output of more than £50 billion, 10% of which are exported.
Business Minister Mark Prisk said:
"The construction products industry is vital to the UK economy employing around half a million people.
"The Budget demonstrated the Government's commitment to promoting UK construction growth through action on enterprise zones, regulation, and fundamental reforms to the planning system.
"I am extremely grateful to the Construction Products Association and the companies who have contributed exhibits to this event."
Construction Products Association Chairman Bill Bolsover said:
"Government has rightly recognised that the construction products industry has a key part to play in the development of Advanced Manufacturing in this country.
"The innovative products and solutions that are developed by companies in our industry will play a major part in ensuring we meet our carbon reduction commitments and help the Government to live up to its ambition to be the greenest Government ever.
"We therefore welcome this invitation from BIS to demonstrate some of the really exciting innovations that our companies have developed to respond to these opportunities."
Construction products exhibitors will include:
The Baxi Eco Gen - a combined Micro CHP (combined heat and power system) able to generate useable electricity as well as heat for the home.
Wavin's Thermoboard - a low build underfloor heating system, ideal for retrofit, the thin underfloor heating system is more energy efficient than traditional radiators.
Knauf's ECOSE® - a revolutionary, bio-based Insulation binder made from rapidly renewable resources, 70% less energy intensive than traditional petro-based binders.
Saint Gobain's E-Glas - new glass products with insulated coatings able to generate heat.
The exhibition is one of a rolling programme of themed displays demonstrating excellence in British design, engineering and manufacturing.** **
The Government is committed to promoting UK manufacturing as it is critical to economic growth with responsibility for 53 per cent of UK exports and 2.8 million jobs.
Notes to editors
The UK is one of the world's leading manufacturers contributing £140billion per annum to the UK economy.

This exhibition follows previous manufacturing exhibitions on the Engineering Supply Chain, Olympics 2012, Automotive and Low Carbon.

Full list of exhibitors:
Aggregate Industries - A major construction and building materials supplier of aggregates (sand and gravel), cement, ready mixed concrete, screed, asphalt, concrete blocks. Based in Coalville Leicestershire they operate over 150 aggregate sites in the UK.
Polypipe - One of Europe's largest and most innovative manufacturers of plastic piping systems for residential, commercial and infrastructure sectors. Polypipe manufactures over 16,000 items across its European Manufacturing facilities. Its flagship factory is in Doncaster.
Pilkington (part of NSG Group) - Based in St Helens, Pilkington employs around 3,000 people across the UK, in activities ranging from the manufacture of float, rolled and wired glass to glass processing and merchanting.
Tarmac - Tarmac Building Products is the UK's largest supplier of heavy building products providing a wide range of building materials and construction solutions from concrete to cooling and ventilation systems. Based in Wolverhampton it operates and have a number of manufacturing sites around the UK.
BASF - Manufactures chemicals to increase performance and durability of construction products, including composite strengthening systems and cathodic protection to sealants, coatings, concrete repair materials and grouts. BASF companies employ more than 2000 people in the UK and Ireland, and a number of UK manufacturing facilities.
Wavin - Europe's leading supplier of plastic piping and draining systems. Developer of the smartFIX, a unique push-fit fitting. The Wavin manufacturing sites at Chippenham, Wiltshire and Brandon, County Durham, can produce over 30 miles of pipes and gutters and 100,000 specialist fittings in a single day.
Knauf Insulation - UK's leading manufacturer of glass and rock mineral wool, extruded polystyrene and extruded polyethylene insulation products. The company has a number of UK factories, including Cwmbran, South Wales and St Helens.
NorBord - One of the world's largest producers of Oriented Strand Board, also manufacturing particleboard, MDF and related value-added products. Their European manufacturing centre is in Cowie, Stirlingshire.
CEMEX - A leading supplier of cement, readymix concrete, mortars, screeds, aggregates, asphalts, concrete block paving, SUDS and roof tiles. CEMEX has three cement plants, including the country's largest cement manufacturing facility in Rugby, Warwickshire.
Ibstock - The UKs leading manufacturer of clay facing bricks, based in Leicestershire, it employs around 1900 people at its 24 plants around the country from Glasgow to Exeter.
BDRTherma (includes BAXI group) - Baxi is one of Europe's biggest manufacturers and distributors of domestic and commercial water and space heating systems operates five manufacturing sites in the UK - Derby, Warwick, Preston, Norwich and Erdington.
Saint-Gobain - The world leader in designing, manufacturing and distributing construction materials, is present in 64 countries, employs over 190,000 people and invests £350-million globally in R&D each year. In the UK and Ireland some of the best known companies in the construction sector are part of Saint-Gobain including British Gypsum, Isover, Weber, Solaglas, Saint-Gobain Glass, Pasquill and Ecophon. Together they employ more than 15,500 employees with a turnover of £3 billion in 2010.
Rockwool insulation - The UK's leading manufacturer of mineral wool insulation for thermal, fire and acoustic protection. Its manufacturing facility based near Bridgend, South Wales.
**Sidey - **Scotland's premier manufacturer and installer of Windows, Doors, Conservatories, Kitchens, Bathrooms and Curtain Walling. UK Manufacture is based in Perth.
The BIS online newsroom contains the latest press notices, speeches, as well as video and images for download. See [http://www.bis.gov.uk/newsroom](http://www.bis.gov.uk/newsroom) for more information.
Notes to Editors
Contact Information
Name BIS Press Office Job Title
Division COI Phone
Fax
Mobile
Email NDS.BIS@coi.gsi.gov.uk
Name Ashley Rogers. Job Title
Division Department for Business, Innovation and Skills Phone 020 7215 5971 Fax
Mobile
Published 5 April 2011