Press release
Exercise tests new temporary flood defences in the West Midlands
Environment Agency and partners test new flood equipment.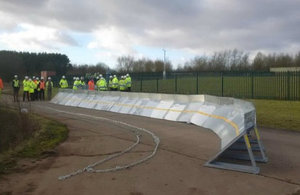 Today (Wednesday 11 January 2017), Environment Agency teams from across the West Midlands have been training with new equipment as part of an exercise to practice their emergency response.
The exercise, which involved staff from the Environment Agency and other emergency responders, was designed to test their response to future flooding. That included testing plans for their new temporary defence barriers which will be used to help reduce the impact of flooding in locations across the West Midlands.
Since the winter floods in December 2015, the Environment Agency has been working closely with local communities and partners to ensure that those affected by flooding are better protected against future flood events. The new 40 kilometres of temporary defence barriers are one of the ways that the Environment Agency is supporting communities in the West Midlands that don't have a permanent defence and remain at risk of flooding.
For the locations where temporary barriers are suitable, they work by creating a short-term, artificial wall that blocks the flow of water across the floodplain. This prevents the water from reaching properties without increasing the impact of flooding elsewhere in the area. These barriers are then entirely removed from the site after the flood water has gone.
The temporary defences, which also include pumps, are centrally stored until they're needed. The equipment is an essential part of helping to reduce the impact of flooding to homes and businesses, minimise risk to life and help reduce the time it takes for communities to recover.
Lisa Pinney MBE, Area Manager, said:
I've seen for myself the devastating impact that flooding has on lives and communities. Having more equipment, running exercises and working with partners are some of the ways we make sure we're ready to move more quickly and flexibly when flooding happens.

But there's no such thing as 100% protecting against flooding, and, as extreme weather becomes more common, we all must take responsibility to be prepared.
Knowing your flood risk is the first step to protecting your family and property. People can check their risk and register to receive free flood warnings by visiting the GOV.UK flood information pages or calling Floodline on 0345 988 1188.
Published 11 January 2017