News story
Exercise Sula report published
The Exercise Sula report has been published and is available on the MCA website. Exercise Sula was held in Scotland in May to test the UK&rsquo…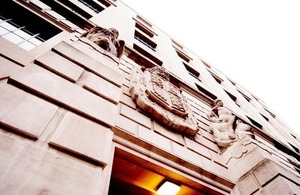 The Exercise Sula report has been published and is available on the MCA website. Exercise Sula was held in Scotland in May to test the UK's response to an uncontrolled release of hydrocarbons into the sea from a deep water well.
This was the first time an exercise had been held using a deep water scenario. It was also the first major, national exercise to incorporate all aspects of the national contingency plan (NCP) and the full establishment of various response cells.
The work of each cell was monitored by a group of industry and environmental experts. Their findings are that overall, the exercise showed the UK could deal with an incident of this type.
In the foreword of the report, Philip Naylor, Director of Maritime Services at the MCA, and Wendy Kennedy, Head of Offshore Environment and Decommissioning Unit at the Department of Energy & Climate Change, said:
"The exercise demonstrated that the UK has highly professional and dedicated personnel who can respond effectively. As could be expected with any well-planned and tested scenario, the exercise highlighted some areas for improvement and identified a number of learning points which can be directly applied in future."
---
Notes to editors
This exercise was led by the Maritime and Coastguard Agency (MCA) and Department of Energy and Climate Change (DECC). Also participating in the exercise: Chevron Upstream Europe, Oil Spill Response, Stena Offshore, Briggs Environmental, Braemar Howells, BP (Sullom Voe terminal), Shetland Islands Council, Marine Scotland, Hess, Joint Nature Conservation Committee, Northern Constabulary, Scottish Natural Heritage, Foods Standards Agency, Scottish Fisheries Association, Oil & Gas UK and the Scottish Environment Protection Agency.
Exercise Sula tested the participants response to an unfolding scenario, involving the uncontrolled release of hydrocarbons into the sea from a deep water well operated by Chevron Upstream Europe at the Cambo Well Site, 86 miles west of Shetland.
This exercise gave the UK an opportunity to assess its response capability to a release from a wellhead 1,000 metres below the surface. Because the exercise scenario involved the weather and tides forcing the oil to land onshore, there was also the opportunity to test a shoreline response in Shetland.
For further details contact the Maritime and Coastguard Agency Press Office on (023) 8032 9401 or pager 07699729089, or visit the MCA website for more information about the agency.
Published 21 September 2011