World news story
Excon 2014 highlights Peruvian construction industry's growth
Excon, the largest construction material and equipment exhibition in Peru, will take place from 30 September to 4 October 2014. According to the Peruvian Chamber of Construction, private sector investment in Peru's construction sector will continue to grow, reaching £19 billion in 2014.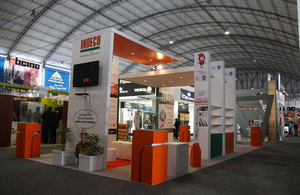 Excon 2014 is a great place to gain a better understanding of the construction market in Peru, develop new business contacts and take advantage of the strong market demand. Private sector investment in the construction sector is mainly concentrated in infrastructure, especially in the mining sector.
This event gathers together the main Peruvian and international construction companies and suppliers. It is a great opportunity for UK firms to showcase their innovations in building materials and construction equipment. International firms from Spain, Colombia, China and U.S.A have confirmed their participation.
At Excon 2013, 420 companies participated, of which 100 were international firms, and over 70,000 visitors attended.
For more information about Excon 2014, please contact UK Trade & Investment team in Lima:
Carlos Chau Deputy Director UKTI Lima Carlos.chau@fco.gov.uk UKTI.Lima@fco.gov.uk
Published 20 February 2014