News story
Exciting new waste prevention projects receive £330,000 funding
Innovative repair and renew projects receive funding to move communities away from a throw away culture.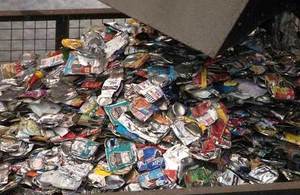 Ten innovative waste prevention projects that will help move communities away from a throw away culture have received funding today.
Managed by WRAP, the Innovation in Waste Prevention (IWP) Fund will help a range of new projects get off the ground and become reality.
Successful schemes range from the Restart Project in London to develop a 'fixometer' app measuring the success of electrical repair workshops, to a 'scrapstore' in Devon and pop up shops in Surrey that offer repair skills for household objects and electrical products. Forming part of the Waste Prevention Programme (WPP), the IWP Fund was set up to help local communities adopt innovative waste prevention, re-use and repair activities.
The successful projects will form the first of three phases of the IWP Fund, providing £800,000 over two years.
Waste Minister Dan Rogerson said:
Preventing waste before it is even created not only protects the environment but also makes good business sense. That is why we are committed to helping people make the most of the materials that are available to them, creating a stronger economy and more sustainable society.

We had an incredible response to the first round of the IWP Fund and the successful projects will take a range of exciting repair and renew projects to communities in England. I am incredibly excited to see what comes out of phase two of this project, as we call for even more innovative ideas.
James O'Brien, Interim Reuse Network Co-ordinator LeicesterShire & Rutland Reuse Network, said:
We are extremely pleased to have been awarded the IWP funding, which will enable the LeicesterShire & Rutland Reuse Network to put in place important foundational elements of our initiative. With this support, we can increase reuse across the area and provide a more sustainable future for our member organisations.
Marcus Gover, Director at WRAP, said:
It's clear to see from all the round one applications that there is a real appetite for communities to work together to prevent waste, which is hugely encouraging. This kind of collaboration and innovation is what's needed if we're to deliver growth and move towards the circular economy.

We're now really looking forward to seeing what exciting and innovative ideas round two generates, especially with the new, lower level of match funding, making it easier for smaller projects to get off the ground.
A year on from launching WPP, we are continuing to promote sustainable waste prevention including important initiatives across the electrical, clothing and food sectors. This includes the Love Food Hate Waste campaign helping people reduce food waste; the Electrical and Electronic Equipment Sustainability Action Plan helping extend product durability; the Sustainable Clothing Action Plan to improve the sustainability of clothing sold in the UK and the Courtauld Commitment helping companies reduce the amount of packaging they use.
Dan Rogerson added:
From rebooting electricals to fixing up used clothes, 12 months down the road we are proud of what has been achieved in the first year of this programme.

There is still a lot more to be done and every sector has their role to play. It is crucial that we keep working in partnership to move from our throw away culture and become a circular economy.
Published 10 December 2014