World news story
Ex scholars create the Chevening Alumni Association of Paraguay
The Paraguayan Chevening Alumni Association was officially launched on 1 December 2016.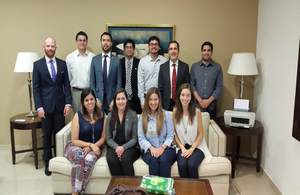 The objectives of the Alumni Association are as follows:
a) To liaise with other Chevening Alumni, alumni from other UK scholarship programmes and all those who have studied an undergraduate and graduate programme in the UK, through cultural, sports, social and recreational activities; b) To promote the members' cultural and professional improvement; c) To promote and disseminate to third parties the knowledge acquired by their members; d) To promote the Chevening scholarship programme, and any other UK scholarship programme in the Republic of Paraguay; e) To act as a liaison between UK and Paraguayan institutions; f) To promote the British culture in Paraguay and vice versa; g) To promote British tertiary education in Paraguay and vice versa; h) To be part of other associations or federations or associate confederations with similar goals; i) To sign agreements with state and non-state organisations, companies, international cooperation agencies and formative institutions to provide and receive financial, medical, sporting, educational, cultural and social assistance in general;
The Board of Directors and the Trustees are comprised as follows: a. President: Eduardo Gustale Gill; b. Vice-president: Guillermo D. Sarubbi; c. General Secretary: Jaime Torales González; d. Treasurer: Laura Andrea Morínigo Centurión; e. Vocal: Verónica Bogarín Closs. f. Member: Leonardo Ariel Carreras Rodríguez g.Alternate Member: Pablo Emmanuel Ramírez Ayala
Chevening Scholarships are awarded to outstanding emerging leaders to pursue a one-year master's at any UK university. The scholarship programme provides a unique opportunity for future leaders, influencers, and decision-makers from all over the world to develop professionally and academically, network extensively, experience UK culture, and build lasting positive relationships with the UK.
A Chevening Scholarship offers financial support along with the opportunity to become part of the highly regarded and influential Chevening global network.
Applicants can choose any course of study at any UK higher education institution.
More information: Chevening in Paraguay
Published 21 June 2017