Press release
Every 11-year-old child to know times tables by heart
New on-screen multiplication tables check to be rolled out nationwide in 2017.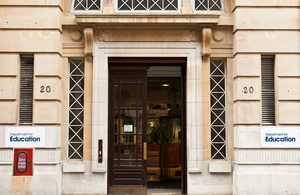 Every pupil will be expected to know their times tables up to 12 x 12 by the time they reach the end of primary school, Education Secretary Nicky Morgan has announced today (3 January 2016).
Under the new measure, all children will have their multiplication skills checked at the age of 11 as part of the government's commitment to giving every child an excellent education.
Standards in primary schools have risen sharply over the past 5 years. In 2010, 1 in every 3 children were joining secondary schools unable to read, write or add up properly. Following government reforms, teachers have driven up standards with this figure falling to 1 in 5.
However, there are still thousands of young people starting secondary school without strong maths and literacy skills.
That is why today the Education Secretary is delivering a key manifesto pledge by announcing that children's knowledge of multiplication tables will be checked at age 11 in order to make sure they master the basics in maths - and to ensure that schools are focusing on this critical area.
Education Secretary Nicky Morgan said:
Maths is a non-negotiable of a good education. Since 2010, we've seen record numbers of 11-year-olds start secondary school with a good grasp of the 3 Rs. But some continue to struggle.

That is why, as part of our commitment to extend opportunity and deliver educational excellence everywhere, we are introducing a new check to ensure that all pupils know their times tables by age 11.

They will help teachers recognise those pupils at risk of falling behind and allow us to target those areas where children aren't been given a fair shot to succeed.
The on-screen check will be piloted to around 3,000 pupils in 80 primary schools this summer, before it is rolled out across the country in 2017.
Pupils will be asked to give timed responses to a series of multiplication questions and the tests will be scored instantly - making them easier for teachers to deliver and giving them an immediate snapshot of how pupils are performing.
This will be the first use of on-screen technology in national curriculum testing and represents an exciting opportunity to explore further ways of reducing burdens on teachers through innovative use of technology in testing and assessment.
The number of pupils meeting the required standard in maths at age 11 rose from 79% in 2010 to 87% last year. However, more than 74,000 children were still below the expected standard in maths.
The move is the latest in a package of measures introduced by the Education Secretary. This includes last month's announcement that pupils leaving primary without a good grasp of the 3 Rs will resit tests in secondary school from 2017, as part of the government's commitment to ensuring no child is left behind.
And the government has already introduced changes to the way secondary schools are held to account for helping struggling pupils catch up with their peers by focusing on the progress pupils make as well as overall attainment - meaning they are held to account for how well struggling pupils catch up with their peers.
Notes to editors
This is the first time these on-screen checks will be introduced at key stage 2 (KS2) and the first time there will be a specific test focused purely on times tables.

Children are already tested on their multiplication in their KS2 assessments, but under our new world-class national curriculum all primary children are expected to know their times tables up to 12 x 12, and this check will ensure they have done.

This is a pilot. However, on the question of accountability, we have already unveiled plans for KS2 English and maths resits.
DfE enquiries
Central newsdesk 020 7783 8300
General enquiries 0370 000 2288
Published 3 January 2016