Press release
Event brings volunteer Flood Wardens together
Environment Agency hosts event to say thank you and bring the North East's Flood Warden groups together.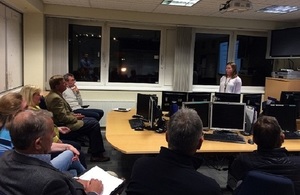 Teams of volunteer flood wardens across the North East are playing a vital role in helping protect their communities.
From Cleveland to Northumberland, there are groups of flood wardens in communities in the North East.
And last week, the Environment Agency hosted an event to say thank you, to bring groups together in one place and show how by working together they can be more resilient to flooding.
Flood wardens were also given a tour of the North East Area Incident Room, where it was explained to them the steps the Environment Agency takes during an incident.
Rachael McFarlane, the Environment Agency's Flood Resilience Team leader for the North East, hosted the event. She said:
This event was our chance to say thank you to those groups we've been working with for years, and to welcome some new groups which have been formed since the flooding last winter.

By bringing the different flood warden groups together, they were able to share ideas about their community flood plan, and learn from each other's experiences.

The local knowledge flood wardens can provide on the ground is invaluable.
They complement our work by implementing their community action plans and offer a key point of contact for us to be able to warn and inform.
The flood wardens also heard from Mary Dhonau, often referred to as the 'Queen of floods', who talked about her personal experience of being flooded, and how vital it is for communities to at risk to sign up for free flood warnings, and prepare a flood plan.
She has worked extensively to be a powerful advocate and voice for communities, and received an OBE for her work.
Mary added:
Flood Wardens are often the unsung heroes within a community. I was delighted to talk at this event and to be given the opportunity to thank the wardens for all they do. I enjoyed sharing practical advice and information with them all and feedback from the evening was very positive.
1 in 6 properties in England are at risk of flooding – that's almost 5 million people.
December 2015 was the wettest month in England since records began in 1910: with an ever-changing climate, the number of homes and businesses that could flood is only going to increase. The worrying fact is that only about half of the people who are in a flood risk area, actually know about it.
Start by taking three simple steps to help protect you, your family and home from the devastating effects flooding:
North East communities are urged to take action. If you are interested in becoming a flood warden or would like to ask questions, contact the North East Environment Agency Flood Resilience Team on 0191 203 4211.
Published 11 October 2016