European Union Bill completes Lords stages
Foreign Office Minister Lord Howell of Guildford today commented on the passing of Third Reading in the House of Lords and the conclusion of the Lords' consideration of the Government's EU Bill.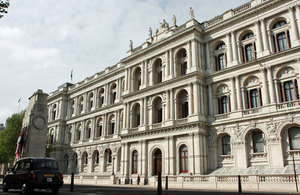 Lord Howell said:
"I am pleased that the House of Lords has now completed its detailed and considered deliberation on the EU Bill. This Bill provides a vital way of ensuring that the British people are consulted prior to any further transfer of competence or power from Britain to the EU, and will be a major step forward in restoring the trust and confidence of the British people in EU affairs. This government firmly believes that the referendum provisions which this Bill will put in place should become an enduring part of our constitutional framework, and is committed to ensuring they do.
"The Government therefore regrets those amendments passed by the House of Lords during its Report Stage which seek to water down and weaken this commitment. We intend to resist these changes when the Bill returns to the House of Commons for the Commons consideration of Lords amendments."
.
Published 23 June 2011