News story
'Europe must join red tape blitz': Fallon
During a series of meetings with Members of the European Parliament, European Commission officials and businesses, Mr Fallon has said he will…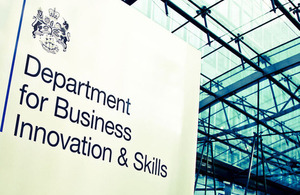 During a series of meetings with Members of the European Parliament, European Commission officials and businesses, Mr Fallon has said he will start building an alliance to put simpler, smarter regulation firmly on the agenda. He called on the European Commission to commit to a new programme to reduce the burden of regulation from January 2013.
Business Minister Michael Fallon said:
"For too long, decision makers in Whitehall and Brussels have regulated first and asked questions later. It's become a barrier to business success and it must stop.
"We have taken tough action to turn back the tide of red tape in the UK and so have many other member states - but half of our regulations come from Brussels so we need strong action from Europe now to stop the deluge.
"Businesses are facing tough conditions but by tackling burdensome regulation we can help make life easier for businesses across Europe."
As part of his first visit to Brussels since becoming Business and Enterprise Minister, Mr Fallon set out a series of specific measures which the UK Government will be seeking to take forward by building alliances at the EU level:
Introducing a European version of our One-in, One-out rule, to offset the burden on businesses of new rules by removing other regulations that are obsolete, particularly burdensome, or not doing the job they were intended for.

Giving robust new powers to the European Commission's Impact Assessment Board, requiring all new regulatory proposals to receive a positive opinion from the Board before they can emerge from the Commission. This is similar to the work of the Regulatory Policy Committee in the UK, about which businesses have been very positive.

Introducing European 'common commencement dates' when most changes to regulations come into force. This will give companies clarity on when to expect changes, so reducing the costs and time involved for companies in preparing for new regulation.

An ambitious new Commission Programme to reduce the overall EU regulatory burden, concentrating on those areas which business finds most burdensome.

Publishing an annual statement of new regulation to let business know what regulations are being introduced. This will help companies plan for these changes, and also set out the independently verified net cost to business of those regulatory changes.
The measures are outlined in the UK's response to the EU's consultation on Smart regulation, which will be published by the Commission in due course.
**Notes to editors:
**1. The Government's response to the Commission's EU Smart Regulation consultation is available on request from the Department for Business press office.
**
**2. The Government's economic policy objective is to achieve 'strong, sustainable and balanced growth that is more evenly shared across the country and between industries.' It set four ambitions in the 'Plan for Growth' (PDF 1.7MB), published at Budget 2011:
To create the most competitive tax system in the G20

To make the UK the best place in Europe to start, finance and grow a business

To encourage investment and exports as a route to a more balanced economy

To create a more educated workforce that is the most flexible in Europe.
Work is underway across Government to achieve these ambitions, including progress on more than 250 measures as part of the Growth Review. Developing an Industrial Strategy gives new impetus to this work by providing businesses, investors and the public with more clarity about the long-term direction in which the Government wants the economy to travel.
BIS's online newsroom contains the latest press notices and speeches, as well as video and images for download. It also features an up to date list of BIS press office contacts. See http://www.bis.gov.uk/newsroom for more information.
Notes to Editors
Contact Information
Name BIS Press Office Job Title
Division Department for Business, Innovation & Skills Phone
Fax
Mobile
Email bispress.releases@bis.gsi.gov.uk
Name Nick Evans Job Title
Division Department for Business, Innovation and Skills Phone 020 7215 3496 Fax
Mobile
Published 5 October 2012