World news story
Europe Day Celebrations in Ecuador
British Embassy Quito participates in reception held by the Delegation of the European Union for Europe day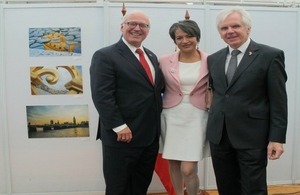 Last Friday 8th May, the Delegation of the European Union held a reception for Europe day (9th May), where the British Embassy Quito participated as a member state of the EU.
The event was attended by Ambassadors from the EU member states, as well as representatives from various organisations from the country – public, private and from civil society – with whom the Delegation of the EU and its member states work together. The attendees enjoyed typical food from each one the countries present. The United Kingdom offered the traditional "fish and chips".
As part of "Europe Week", winners of the photography competition "Europe as seen from Ecuador", which included a photograph of London, were rewarded on Wednesday 6th May. A seminar on trade organised by the European Chambers took place on Thursday 7th May, during which they discussed various themes related to the EU-Ecuador Trade Agreement.
Europe Day has been celebrated since 1985, and 9th May relates to the famous 1950 Schuman Declaration, when the then-French Foreign Minister, Robert Schuman, first proposed the creation of a European supranational community for the management of steel and coal which gave way to the European Coal and Steel Community, the forefather of the current European Union.
Published 11 May 2015