World news story
Europe and Peru: from the trade agreement to business opportunities
Business seminar highlights the trade agreement between the European Union and Peru, which will benefit British and Peruvian businesses.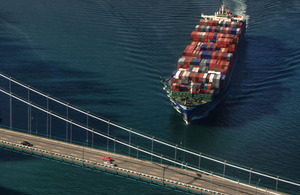 During the seminar "Forum EU-Peru: from the trade agreement to effective business", held at the Chamber of Commerce in Lima, Peruvian and European businesspeople discussed the main characteristics, benefits and challenges of the EU-Peru Free Trade Agreement (FTA) which came into provisional force on 1 March 2013. Other key aspects of the trade agreement were also discussed, including how to encourage socially responsible investment and technical details related to exporting sectors such as food, agriculture, fishing and textiles. Services, public procurement, intellectual property, labelling regulation and designation of origin regulation were also covered.
The agreement will substantially improve market access for both European and Peruvian companies exporting goods and services, as well as for investors. In the long term, for example, exports of industrial and fishery products will no longer have to pay customs duties and the markets for food and agriculture products will grow considerably.
But the main benefit of the FTA is that it establishes conditions for investment that provide a stable, transparent and predictable business environment. It is expected that this will create new and important opportunities for companies and consumers on both sides.
The FTA also includes important regulation to protect human rights and the rule of law. It includes commitments to effectively comply with international agreements on labour rights and environmental protection. Civil Society organisations will be involved in ensuring these commitments are fulfilled.
The seminar was organised by the European Union in Peru in partnership with the Chamber of Commerce of Lima, the Ministry of Foreign Affairs and the Ministry of Foreign Trade and Tourism, Promperú, Peru's Exporters Association (ADEX), and the EU country members' embassies to Peru and the European countries' Chambers of Commerce, including the British Embassy and the Peruvian-British Chamber of Commerce. Peru's Vice Minister of Foreign Affairs, Fernando Rojas, and Vice Minister of Trade, Carlos Posada Ugaz, took part in the seminar.
More information:
If you represent a British company interested in learning more about business opportunities in Peru, or a Peruvian company seeking British equipment and services, contact the UK Trade & Investment team at the British Embassy in Peru at UKTI.lima@fco.gov.uk
Links:
Published 24 June 2013