EU supports Palestinian Statehood
The EU Foreign Affairs Council discussed the latest developments in the middle east on 13 December.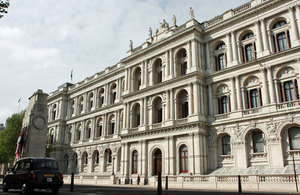 Expressing their regret that Israel had not extended the moratorium on settlement construction, European Governments reiterated their view on thekey parameters, principles and issues for the resolution of the Arab-Israel conflict, stating "the EU will not recognize any changes to the pre-1967 borders, including with regard to Jerusalem, other than those agreed by the parties. This could include agreed territorial swaps. A way must be found through negotiations to resolve the status of Jerusalem as the future capital of two states. The EU calls for an agreed, just, fair and realistic solution to the refugee question. A negotiated settlement must allow the two States to live side by side in peace and security."
The Council underlined the EU's "readiness, when appropriate, to recognize a Palestinian state" and its welcome of the World Bank's assessment that "if the Palestinian Authority maintains its current performance in institution building and delivery of public services, it is well positioned for the establishment of a State at any point in the near future".
Council members also focused on the situation in Gaza, stating in its formal conclusion that "the EU remains extremely concerned by the prevailing situation" and calling for the "immediate, sustained and unconditional opening of crossings for the flow of humanitarian aid, commercial goods and persons to and from Gaza." It was noted that "despite some progress following the decision of the Israeli government of 20 June 2010 to ease the closure, changes on the ground have been limited and insufficient so far. Further efforts and complementary measures are needed to achieve a fundamental change of policy that allows for the reconstruction and economic recovery of Gaza as well as improve the daily lives of the population while addressing Israel's legitimate security concerns."
The Council also called on those holding the abducted Israeli soldier Gilad Shalit to release him without delay and for a complete stop of rocket attacks at Israel.
Read the full text of the EU Foreign Affairs Council conclusions.
Published 15 December 2010