World news story
EU invest $15 million in Turks and Caicos growth and prosperity
An agreement to invest $15 million of European Union (EU) cash into making TCI more business friendly was signed in Providenciales today, Thursday, 21 November 2013.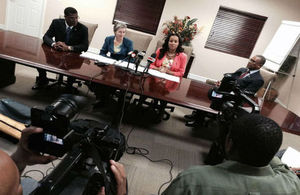 EU Ambassador based in Jamaica, Her Excellency Paola Amadei, and Acting Governor of the TCI, the Hon Anya Williams, jointly made the announcement and signed the agreement at a specially convened news conference, along with Minister of Finance, the Hon Washington Misick.
The money is to be used to reform the way that government interacts with the private sector in order to stimulate economic activity. It will be paid from the EU's tenth European Development Fund (EDF 10) in three annual tranches, beginning in March 2014.
Under the terms of the agreement, TCIG is required to develop a business reform strategy, currently being prepared by its Ministry of Finance, and looks also to improve its business licensing and work permit systems.
During her visit Ambassador Amadei also met some of the beneficiaries of the separate $6 million of EU cash that is rebuilding and refurbishing 124 homes damaged by hurricanes that struck the Turks and Caicos islands of Grand Turk, South Caicos and Salt Cay, which were some of the worst affected according to UNESCO in 2009. She also met with the TCI Premier and Minister of Finance during her visit.
This announcement is crucial for the effective operation of the Turks and Caicos Islands in two ways," said Anya Williams, Acting Governor and Authorising Officer for the EU in TCI.

This EDF10 cash provides our Government with new resources to invest in our ongoing reform of the public sector, and also practically demonstrates the benefits of being part of the United Kingdom and its membership of strategic international organisations. I would like to thank the Ambassador for visiting the TCI and seeing for herself the progress that has been made since our membership and funding was reinstated in 2012.
Ambassador Paola Amadei added:
This is my first visit to the beautiful Turks and Caicos Islands and it could not have been planned at a more propitious moment: we are turning a new leaf for the archipelago and this programme helps consolidate the impressive results achieved in all aspects of public policy.
The Hon Washington Misick concluded:
My Government is grateful for the EU grant in support of its policy to transform the business environment by incorporating best practices in its regulatory processes.
A better business climate will facilitate easy entry into the market, enable entrepreneurs to build their businesses and reinvest in the TCI resulting economic growth," he said.
Published 21 November 2013