EU hurricane repairs begin on Turks and Caicos Islands
The $6.25m EU funded repair of Hurricane damaged properties has begun the TCI Disaster Recovery Board (DRB) announced Tuesday, 10 June 2014.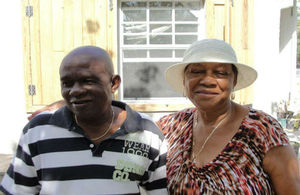 Parker & Sons Construction won the tender to start conducting minor repairs on 11 properties on Grand Turk, with works due to be completed early August 2014. Work will begin shortly on South Caicos and Salt Cay.
Tenders are currently being negotiated to carry out more serious repairs on a further 27 properties, due to be completed by October, as well as the total rebuilding of some homes too badly damaged to repair.
The EU resources have been allocated according to the greatest need by the DRB, as required by the EU Contract, with those on the lowest income and living in a damaged property with elderly, infirm or disabled people taking precedence.
Originally 124 homeowners were informed that they were eligible for assistance from the $6.25m fund, and prioritised according to need by the DRB. Thirteen of these have subsequently withdrawn their applications or been found to be ineligible, in some cases due to an irresolvable issue with the ownership of the land that their home is on, for example. Of those remaining:
Minor works – originally 22 applications fell into this category all of which are priority one, but after withdrawals or having been found to be ineligible, 11 applications remain, all of whom will have their repairs carried out.

Major repairs – originally 38 applications fell into this category. All 27 priority one cases will have works carried out; the 11 households which a lower level of priority according to the criteria set down in the EU Contract, may have their works carried out, but only if any budget remains upon completion of the works on priority one applications.

Complete Rebuilds – originally 64 applications fell into this category, with 43 of these being identified as priority one. It is unlikely that the budget will allow rebuilding of all 43 priority one homes, once contract negotiations are concluded. Once the exact costs are known, the most vulnerable members in this group will receive new homes. This leaves 21 properties in the lower priority categories who are unlikely to have their homes rebuilt out of this funding, due to budget constraints. These persons are mainly single income family households or those living in rented accommodation or with relatives.
The islands of Grand Turk, South Caicos and Salt Cay were the worst affected by Hurricane Ike, according to UNESCO in 2009.
Published 10 June 2013