EU countries 'must honour aid promises'
International Development Secretary Andrew Mitchell has today called on EU nations to maintain their commitment to international aid, despite the financial crisis.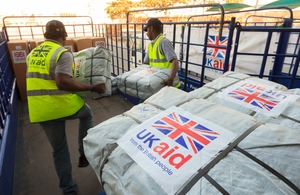 Speaking in advance of his first visit to the EU Foreign Affairs Council, Andrew Mitchell said:
Five years ago EU nations made a promise to the world's poor to work towards spending 0.7% of our income to help ensure people have access to the basics they need to survive such as water, health services and food.

EU countries are important partners in the fight against poverty and need to show global leadership by meeting this pledge.

We mustn't balance the books on the backs of the world's poorest and break this vital promise - doing so will mean more people will die from famine or lack of clean water. We have a moral duty to continue this work despite our own financial problems.
Andrew Mitchell also stressed the need to ensure that, in meeting this target, every penny was spent effectively. DFID recently launched a review of all their funding of multilateral institutions, such as the EU, UN and World Bank, to ensure that they are providing value for money.
DFID spending will also be subject to an independent aid watchdog and aid transparency initiative to certify that it is having a real impact on reducing poverty across the developing world, particularly on priorities such as maternal health.
Published 14 June 2010