EU Bill passes Second Reading in Parliament
The Second Reading debate of the EU Bill took place on 7 December in the House of Commons.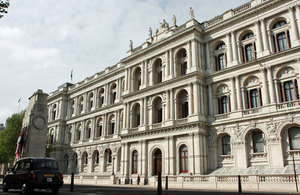 The EU Bill has passed through its Second Reading stage in Parliament, where an opposition amendment to halt its passage was defeated in a vote by a majority of 135. It now moves to the Committee Stage, where it will be scrutinised by Members of Parliament in more detail.
The Second Reading debate opened with a speech by the Foreign Secretary, William Hague. He said:
"The Bill makes a very important and radical change to how decisions on the EU are made in this country. It is the most important change since we joined what was then called the European Economic Community. It marks a fundamental shift in power from Ministers of the Crown to Parliament and the voters themselves on the most important decisions of all: who gets to decide what.
"The yardstick for progress in the European Union is not the depth of political integration. The lost opportunities of the past decade of institutional navel-gazing have made that plain. Progress for the European Union means its institutions' ability and willingness to help its member states meet the challenges of today, and for us today that means our international economic competitiveness, sustainable low-carbon growth and the use of our collective weight in the world to advance our shared values and interests.
"That is why, from their first day, the Government have been active and activist in European policy. That is why we have played a strong and positive role in the EU which in six months has delivered significant results-agreement on EU sanctions against the Iranian Government that are already having a material effect, and agreement on measures that will substantially aid Pakistan's economic recovery in the aftermath of the floods. We have pushed hard at EU level on measures to further free trade, in particular with Pakistan and South Korea, thus far with success.
"The Bill will give the British people and Parliament powers that they have not previously enjoyed in decisions about engagement with the European Union."
Published 8 December 2010