Estate suppliers set to benefit from Fair Payment
Defence Estates (DE) has announced that future suppliers to the military estate will benefit from measures to ensure that all businesses are paid punctually, irrespective of size or specialisation.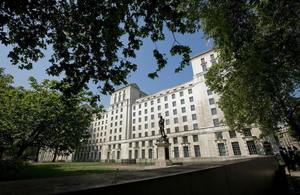 DE will introduce Project Bank Accounts to allow direct payment to supply chain members, sub-contractors, and main contractors, under future commercial arrangements on its estate, including those being developed across the UK under its' Next Generation Estate Contracts (NGEC) programme.
The decision follows the OGC launch of the Fair Payment initiative last year and DE's use of Project Bank Accounts for a number of projects, including the re-development of RAF Wyton, the Midlands Medical Accommodation project in Lichfield, and the Works Group Royal Engineers contract which delivers infrastructure services to six RAF bases in the UK.
From 2013 DE intends to set up Project Bank Accounts jointly with its incoming prime contractors for housing, training estate, and regional facilities management, and with lead contractors on individual construction projects, under the new regional and national Capital Works Frameworks.
Diane Rampling, DE Head of Commercial policy, said:
Defence Estates' top priority is to support our Armed Forces. We must also deliver value for money and fair payment makes a proven contribution towards this goal by helping to minimise finance charges.
Our recent Project Bank Account experience has shown clearly the benefits for main contractors, supply chains, and the MOD. Using these accounts prevents late or delayed payment and provides greater certainty on payment in the supply chain.
Mark Grant, Head of NGEC Contract Development, added:
It is vital to the efficiency of our future commercial arrangements that all suppliers, irrespective of size or specialisation, are confident of being paid promptly. Project Bank Accounts will promote a culture of collaboration and trust across our industry partners.
Procurement under the NGEC programme has already started for the Scotland and Northern Ireland Regional Prime for facilities management, and the national and regional Capital Works Frameworks for construction projects. The future contracts will be in service from 2013 onwards.
Published 2 February 2011