Press release
Essex rapist has sentence increased after Solicitor General's appeal
Rapist, Sezer Keser, has had his sentence increased after the Solicitor General referred it for being too low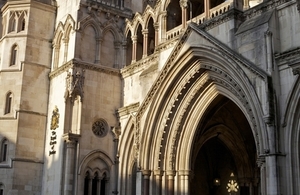 A rapist has had his sentence increased after the Solicitor General, Robert Buckland QC MP, referred it for being too low.
On 29 May 2015, Sezer Keser, 25, offered to drive the victim home from an Essex shopping centre. After tricking her back to his house, Keser got the victim drunk before raping her.
Keser was originally sentenced to 5 years imprisonment at Nottingham Crown Court. Today, after the Solicitor General's reference, the Court of Appeal increased his sentence to 7 years in prison.
Commenting on the sentence increase, the Solicitor General said:
I am pleased that the Court of Appeal has agreed that Keser's sentence should have been higher. He put his victim through a terrible ordeal and my thoughts are with her and her loved ones. I hope the increased sentence will bring them some comfort today.
Published 12 April 2018