World news story
Essex global logistics firm opens office in Burma
Claridon Group becomes the first privately owned British company to establish an office in Burma.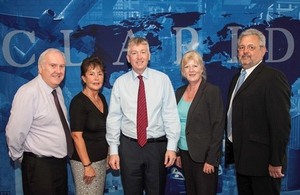 Claridon Group, based in Stanford le Hope, is leading the way for the UK. They are the first British global logistics firm to open an office in the formerly restricted country. They are hoping for success after establishing close working relationships with Burma's Minister for Transport and other government officials.
Chris Scott, Managing Director of Claridon Group, has worked closely with UK Trade & Investment (UKTI) throughout the setting up process. He was supported by local International Trade Adviser Martin Senior and UKTI colleagues based in the British Embassy, Rangoon.
Chris Scott said:
You need have a real understanding of the culture, a lot of patience and be determined. However we found UKTI to be fantastically helpful and supportive and we received a huge amount of assistance and information on the ground which helped us persevere and get to this point. Without the excellent support of UKTI, the opening of Claridon Myanmar Co Ltd would have taken significantly longer than it did and been a far more complex affair.
Opportunities in Burma
Chris Scott said:
With trade sanctions only being lifted last year we saw the opportunity to take advantage of the numerous business opportunities in this emerging market and thought it was vitally important for us to be the first to set up in the country.

During our second visit last March we were invited to private meetings with the Minister of Transport as well as other Government officials.

We have regular contact with the Government and have devoted a significant amount of time and resources investing in the country – and whilst we realise this is not something that will bring instant results, we are in it for the long term and confident that in the future we will reap the rewards.

We, like many others, feel that economically the country has the potential of becoming another China, albeit on a smaller scale.

As the first British global logistics company in the country we believe that this will give us the opportunity to provide truly specialist multi-modal door to door logistics services for British exporters, as well as providing market intelligence and support for them if required. We are already discussing with our clients potential opportunities for exporting their products and helping to connect them with interested parties in Burma. Chris is set to travel to Burma again this month to recruit additional staff for the office: a mixture of local and British employees.
He added:
A significant proportion of the infrastructure in the country needs to be re-modernized and built, from port and road modernisation to hotel, office and factory construction. With that will bring significant volumes that will needed to be imported into the country and we are in a prime position to take advantage of this business.
Comments by UKTI East of England and Essex Chamber of Commerce
Liz Basing, East of England Regional Director for UKTI, and Denise Rossiter, Chief Executive at Essex Chambers of Commerce recently visited the company. They found out how persistence paid off for the firm. Liz Basing said:
Burma is a country with rich natural resources and proximity to some of the most dynamic economies in the world. Responsible trade and investment will support jobs and growth there and in the UK.

It's exciting to see such a significant "first" from a company in the East of England. Having recognised the potential of this fast-growing market and invested time and resources in developing key strategic relationships, Claridon is ideally placed to become a market leader for the future.

I'm delighted UKTI was able to help and I urge other companies across the region to follow Claridon's lead. Burma's economy grew by more than 6% last year. It's a market where persistence and hard work look set to bring great rewards.
Denise Rossiter, Chief Executive at Essex Chambers of Commerce, said:
I knew that Essex lead the way in exporting across the globe but for Claridon to be the first privately owned UK company to open up in Burma is really special and I am delighted both for them and also because they are a leading member of Essex Chambers of Commerce.

This success demonstrates that with hard work and support from the Chambers and UKTI there is no door that cannot be opened by companies such as Claridon who have demonstrated the will to succeed where others might think twice.

I congratulate Chris Scott and his team for being pioneers in opening up new markets and wish them every success in their new venture.
Claridon Group
Claridon Group has just celebrated their 25th anniversary. They are one of the leading providers of specialist global logistics services and this office will help to boost their extensive global coverage.
They offer a range of services by sea freight, air freight and surface freight to and from most global destinations, including remote and politically difficult regions. Their Head office in Essex employs 25 staff, with another 50 employed at offices in Luxembourg, Italy, Germany and France.
Contacts
If you are looking for assistance in developing your business in Burma contact UKTI Rangoon.
Published 25 September 2013