Press release
Essential maintenance work Piffs Elm Bridge M5 junction 10 at Gloucester
The Highways Agency has announced plans for extensive maintenance work at Piffs Elm Bridge which supports the A4019 over the M5 at junction 10 near Gloucester.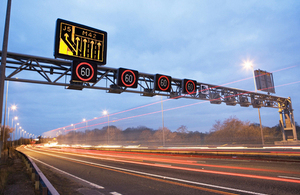 The work, which starts at the beginning of June, is needed to replace the foundations of the bridge.
Highways Agency Service Delivery Team Leader, Dave Sledge said:
As well as record increases in road improvements we're also investing in keeping our roads, and structures like Piffs Elm Bridge, properly maintained and safe for road users.

We recognise that the A4019 is an important route for local road users and that is why innovative new working techniques have been developed that will allow repair work to be carried out without closing the A4019 for any length of time.

The majority of works will be undertaken during the day with traffic management installed on the M5 and we will be releasing more details in the near future.
The scheme is planned to last 57 weeks and will finish in July 2015. The B4019 will remain unaffected apart from three short overnight closures to allow vibration sensitive works to be completed safely.
Work at Piffs Elm is part of a comprehensive maintenance programme on four bridges between junction 10 and 12 of the M5, which started in January.
The foundations of three of these bridges, including Piffs Elm, have been attacked by thaumasite, which is a severe form of sulphate attack and can reduce affected concrete to a soft crumbly material.
Work on the bridges include exposing the foundations and repairing the areas affected by thaumasite. To keep the bridges safe during the work, extra support will be installed to the bridge decks.
Members of the public can find out more about the schemes, including a video on thaumasite, by visiting our M5 Gloucestershire Bridgework Facebook page. Information is also available on the Highways Agency website.
General enquiries
Members of the public should contact the Highways Agency Information Line on 0300 123 5000
Media enquiries
Journalists should contact the Highways Agency press office on 0844 693 1448 and use the menu to speak to the most appropriate press officer
Published 25 March 2014