ESA Astronaut Tim Peake featured on Google Hangout
UK Government Works with European Space Agency, UK Space Agency to host Google Hangout on Robotics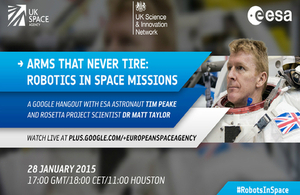 The British Consulate General, Houston and the UK Science and Innovation Network is working with the European Space Agency, the UK Space Agency and NASA to host a Google Hangout featuring British ESA Astronaut Tim Peake.
In advance of Tim's historic mission to the International Space Station, Tim will discuss the use of robotics in space missions with Rosetta Scientist Matt Taylor. Among other things, they will touch on how innovation in the field of robotics is closely tied to the expanding limits of human space exploration and our ability to go farther, and stay longer. The audience is encouraged to tweet questions for both Tim and Matt using the hashtag #RobotsInSpace.
Tim Peake is the first British ESA Astronaut to visit the International Space Station and is scheduled to launch in November 2015. He is completing part of his training at NASA's Johnson Space Center in Houston. Matt Taylor is a scientist from the UK who is leading on ESA's Rosetta project which successfully put the Philae Lander on a comet – a world first.
Details about the Google Hangout
What: Google Hangout featuring Tim Peake and Matt Taylor, hosted on the European Space Agency's Google+ Page
When: Wednesday 28 January 2015 at 11:00 a.m. US Central Time
Tweet questions using #RobotsInSpace.
For updates on the Google Hangout, follow @UKinTX and @spacegovuk on Twitter.
Published 23 January 2015