Eric Pickles unveils radical plan for town halls to help cut red tape
A radical plan to banish nonsense red tape and repeal unnecessary laws was unveiled by Communities Secretary Eric Pickles today. In a speech…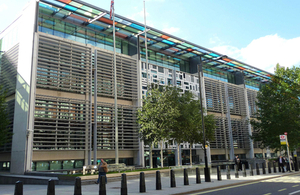 A radical plan to banish nonsense red tape and repeal unnecessary laws was unveiled by Communities Secretary Eric Pickles today.
In a speech to a local government audience Mr Pickles invited council workers and sector experts to suggest CLG sponsored statutory guidance, secondary legislation or regulations they think should be removed so councils can get on with their job.
Piles of regulatory red tape are a traditional part of law making. But the Government has made it clear that it would shun the bureaucratic levers of the past imposed on councils and help encourage, local people to take control themselves. All 'Cut Red Tape' ideas that are put forward will be considered.
Ministers are already earmarking pages of unnecessary regulations, ridiculous micromanagement or outdated laws that need to be re-examined. For example the 1919 law that required the Secretary of State's consent if councils wanted to buy new land for allotments; three different sets of regulation governing tree protection; and guidance on the duty to carry out an economic assessment.
The coalition programme for government committed to giving the public the opportunity to challenge the worst regulations and to introducing a 'one-in, one-out' rule whereby no new regulation is brought in without other regulation being cut by a greater amount. And 'sunset clauses' will ensure regulation is regularly reviewed.
Eric Pickles said:
Too much power has been sucked out of communities into Westminster eroding trust in politics, and sapping responsibility and initiative with stifling bureaucracy.

More often than not over legislating simply lead to bureaucrats ticking extra sets of boxes on forms but none of the real changes that are needed. We need a sensible new approach that makes clear laws are intended to protect people, not overwhelm them with red tape.

Today I am asking councils to put localism into action and help us cut back red tape, wrest control away from the bureaucrats, reverse the years of creeping state control and return power to people, communities and councils.

Up and down the country there are thousands of town hall workers and sector experts who want to make a real difference in their communities. But for far too long they have been tied up in needless bureaucracy that has been a burden on the important work they want to do.
The Deputy Prime Minister is spearheading the coalition's push to restore power to individuals creating a more open politics where the public are more engaged in Government where as many people as possible submit ideas for change.  The Government launched the 'Your Freedom' public debate and website last Thursday.
Councils are already welcoming the chance to reduce burdens with over 240 having coming forward already. All ideas should be sent to: cutredtape@communities.gsi.gov.uk.
Notes to Editors
List of CLG secondary legislation being considered for revocation can be found at: www.communities.gov.uk/localgovernment/about/helpcutredtape.
The coalition has already begun to roll back on swathes of unnecessary red tape:
called time on the Regional Spatial Strategy putting power back in the hands of local people and scrapped housing targets. Soon I will be announcing the full list of incentives to local authorities that will encourage development

made HIPS history and already the number of homes being put up for sale has gone up by 35 per cent

put an end to unwanted 'garden grabbing' putting the decision back in the hands of local people

cut the ring fencing and red tape which comes attached to hundreds of millions pounds worth of central government grants

abolished Comprehensive Area Assessments where town halls report back to Whitehall

handed over more power to councils so they can manage high concentrations of shared housing in their area, without putting off landlords from renting the homes people need

Vince Cable has announced an immediate review of all regulation in the pipeline for implementation which has been inherited from the last Government

Lord Young of Graffham has been appointed as advisor to the prime minister on health and safety law and practice to reduce the compensation culture.
Twitter
Keep up to date with the Department by following us on Twitter (external link).
Media enquiries
Visit our newsroom contacts page for media enquiry contact details.
Published 7 July 2010