Eric Pickles sees family intervention in action in Devon
Communities Secretary Eric Pickles saw efforts to turn around troubled families when he visited two Family Intervention Projects in Devon today…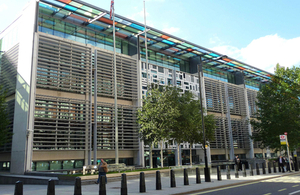 Communities Secretary Eric Pickles saw efforts to turn around troubled families when he visited two Family Intervention Projects in Devon today, alongside the head of the new Troubled Families Team, Louise Casey.
Mr Pickles and Ms Casey toured the Edge of Care Family Intervention Project in Torbay and the Green Ark Children's Centre in Plymouth meeting both key workers and families. The two centres were praised as excellent examples of early-intervention work aiming to tackle troubled families.
Mr Pickles and Ms Casey heard from Plymouth and Torbay councils directly about the best methods for how central and local government can work together in tackling troubled families together in the future.
The visit is part of a determined drive by the Government to turn around the lives of 120,000 of the country's troubled families. Last month the Prime Minister and Mr Pickles launched the strategy and announced nearly half a billion pounds of funding to help local authorities achieve success.
Troubled families cost society nearly £9 billion every year with most of that spent just to contain and respond to problems such as crime and anti-social behaviour, or placing children into care.
The excellent work being done in Plymouth and Torbay will help inform the work of the Troubled Families Team as they draw up plans to work with other councils across the country.
Whilst on the visit, Mr Pickles and Ms Casey also heard from the families involved and discussed what other measures would be useful in helping them turn their lives around.
Eric Pickles said:
The Government is committed to transforming the lives of these troubled families and I've seen today the good work local authorities are already doing. We want to achieve real results and the work of the Troubled Families Team will build on the success of what is taking place in Torbay and Plymouth.
Louise Casey said:
Troubled families are families that both have problems and can cause problems. Last year around £75,000 per family was spent largely on dealing with the problems these families can create. But now across the country we have to take action that gets to the causes and really helps get families back on track. It's a huge challenge and I'm delighted with the response I've received so far from people willing to work together to make real and lasting change.
Notes to editors
1) In December 2011, Prime Minister David Cameron and Communities Secretary Eric Pickles announced £450 million plans to radically transform the lives of the country's most troubled families. A new Troubled Families Team based within the Department for Communities and Local Government and headed by Louise Casey, has been established to join up efforts across Whitehall, provide expert help to local areas and drive forward the strategy.
2) £448 million will be made available to the Troubled Families Team to turn around the lives of 120,000 families over the next three years. Most of this money will follow a payment by results model, which equates to up to 40 per cent of the money needed to turn round families. The remaining 60 per cent will be found from across the budgets of a range of local bodies.
3) The government will also fund a national network of Troubled Family 'Trouble-shooters' in each (upper-tier) local council. The trouble-shooters will operate at a senior level to oversee the programme of action in their area - getting a grip on the numbers, bringing together police, job centre plus, health organisations, schools) to put a robust plan of action in place to deal with the families and ensuring the right action is being taken with each family and levering in resources for their local programme.
4) The original announcement and press notice can be found here: www.communities.gov.uk/news/newsroom/2052313.
5) Details of the Family Intervention Projects in Torbay can be obtained from the Torbay Council press office on 01803 208850. Details of the Family Intervention Projects in Plymouth can be obtained from the Plymouth Council press office on 01752 307898.
Twitter
Keep up to date with the Department by following us on Twitter (external link).
Media enquiries
Visit our newsroom contacts page for media enquiry contact details.
Published 19 January 2012