Eric Pickles outlines action plan to support the voluntary and community sector
Community groups, local residents and voluntary sector organisations will benefit from powerful new rights designed to transform the way that…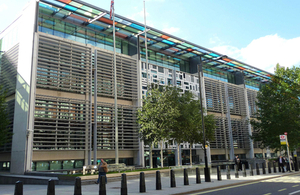 Community groups, local residents and voluntary sector organisations will benefit from powerful new rights designed to transform the way that local services are run, Communities Secretary Eric Pickles said today, as he outlined the action Government is taking to ensure that the most is made of the energy, expertise and experience of the voluntary sector.
Speaking at the National Council of Voluntary Organisations conference the Communities Secretary outlined the measures in the Localism Bill, including community rights to buy local assets and run local services that are designed to make it easier for community groups to make a real difference to their local areas.
The Communities Secretary also used the speech to praise those councils that have recognised that voluntary and community groups could hold the key to better value and better services when setting their budgets. But he accused those councils that are failing to engage the sector of "short sightedness."
Eric Pickles said:
Councils have challenging decisions to make around how they prioritise spending but they must resist any temptation to pull up the drawbridge on the voluntary sector and pass on disproportionate cuts. The best councils are showing that they can both embrace the Big Society and balance the books at the same time. They are doing that without government dictating their every action through intervention and ring fencing.

This is about moving from a situation where voluntary sector is surviving to one where they can thrive. Making this a reality will require councils to be more imaginative and the voluntary sector to be more independent.

In their approach to budget setting, the best councils are showing that they understand that a strong, thriving voluntary sector is more important now than ever and could be the key to providing high quality, good value services to their residents. But this is not the case everywhere. Councils that are failing to recognise the importance of the sector are being short sighted in their approach.  
"Through the Big Society we want to make sure that voluntary and community groups have got the confidence, the clout and the power to match their experience and expertise. We are putting into law new powerful rights that will mean that when groups have a track record of delivering and can show that they have good ideas about the way things should be done then  the council will have to take them seriously."
At the heart of the Localism Bill is a suite of measures designed to strengthen the hand of groups wanting to take on a bigger role by entrenching powerful new rights for community groups, these include:
The community right to buy community resources like leisure centres and libraries - groups will have the time they need to develop business plans and raise funds. This crucial breathing space will ensure that they are not squeezed out of open market sales of treasured local assets.
The community right to challenge the way local services are run such as children's centres, social care, or even transport. Voluntary and community groups that have a track record of working with their community and delivering results will have the chance to show what they can do. The new right will put them on the front foot when it comes to taking over a local service and has the potential to open up new funding streams.
The Secretary of State also used his speech to urge councils to think carefully about how budget setting decisions now will impact on the voluntary sector.
Involving voluntary and community groups in budget setting - as councils set their budgets it is reasonable to expect that they give voluntary and community groups three months notice or more when they think they need to end or alter a grant, or other support. Rather than pulling up the drawbridge they should, as a matter of course, be open to suggestions from these groups on alternative ways of redesigning or reshaping the services so that they can continue to be provided even where budgets need to be reduced. In the speech the Secretary of State made clear that where there is a failure on the part of councils to engage in these discussions Ministers will not shy away from using statutory force to make sure that voluntary groups are getting a fair crack at the whip.
Government is also supporting local groups take centre stage in the running of local services and move towards ending the dependency on grant funding.
£1m to support takeover of local assets - Decentralisation Minister Greg Clark has today boosted the support, advice and expertise that will be available to groups that want to take on community assets such as youth centres, museums and former town halls, and give them a new lease of life.
Transparency in funding - as part of efforts to increase transparency in local government, ministers have urged all councils publish what they give in grants and payments to the voluntary and community Sector.
Decentralisation Minister Greg Clark said:
Many voluntary and community groups have outstanding ideas about how they could deliver high quality local services at a reasonable cost, or run the local buildings and amenities that people care about in the best interests of the community.

We want to make it as easy as possible for local groups to feel empowered to make these changes, and give buildings, parks, and other much-loved community assets a new lease of life.

The Asset Transfer Unit's specialist teams are experts at this, and today's boost in funding will allow them to offer support and advice to many more groups across the country.
Notes to editors
Many 'can do' councils are actively working to protect voluntary organisations as they make decisions about future funding:
Thurrock and Wolverhampton have all pledged to continue funding the voluntary sector at the same rates.

Wiltshire have said that they need flourishing voluntary sector organisations today more than ever before and that "to weaken the sector by withdrawing support would be a big mistake".

Reading are increasing the money they give to voluntary groups. And changing the way it's distributed so it's more transparent, consistent, and focused on what the town needs and they are offering hundreds of thousands of pounds worth of cheap accommodation taking some of the financial pressure off local groups.
DCLG are extending funding for the Asset Transfer Unit by £1m into 2011-12 enabling the unit to continue to offer practical support to communities who want to take on public assets such as youth centres, museums and former town halls for the benefit of local people. The Asset Transfer Unit has a unique understanding and extensive experience in this area, having supported approximately 1,000 transfer initiatives to help them take on buildings and services to generate income and therefore a more sustainable, less grant dependant future. The Asset Transfer Unit is managed by the Development Trusts Association who are soon to merge with Bassac to form 'Locality'. Further information can be found on the ATU website www.atu.org.uk (external link). Details on the extended funding for the ATU and pilot projects will be announced shortly.

Greg Clark recently wrote to councils highlighting the importance of publishing details of funding to voluntary and community groups as part and parcel of the general move towards greater transparency in public spending. Making the data public will help highlight inefficiency and open new markets for local small businesses and voluntary groups by revealing how services are currently delivered so they can assess whether they could submit a credible bid to run them differently and deliver greater value for money.
Twitter
Keep up to date with the Department by following us on Twitter (external link).
Media enquiries
Visit our newsroom contacts page for media enquiry contact details.
Published 1 March 2011