News story
Eric Pickles opens pop-up shop to showcase high street entrepreneurs
DCLG is giving a big boost to small retailers today as it opens a brand new pop-up shop in its own headquarters.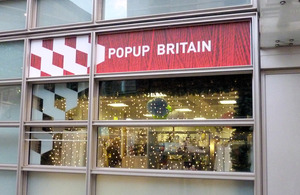 As part of the government's efforts to regenerate high streets and encourage entrepreneurs, the shop is being opened in time for final Christmas present buying this week by Communities Secretary Eric Pickles and Local Growth Minister Mark Prisk, with the support of national enterprise campaign StartUp Britain.
To directly support enterprise and showcase Britain's best new retailers, ministers have set up the pop-up store inside their Victoria-based office building to act as a blueprint for high streets across the country to emulate through schemes such as Portas Pilots and Town Teams.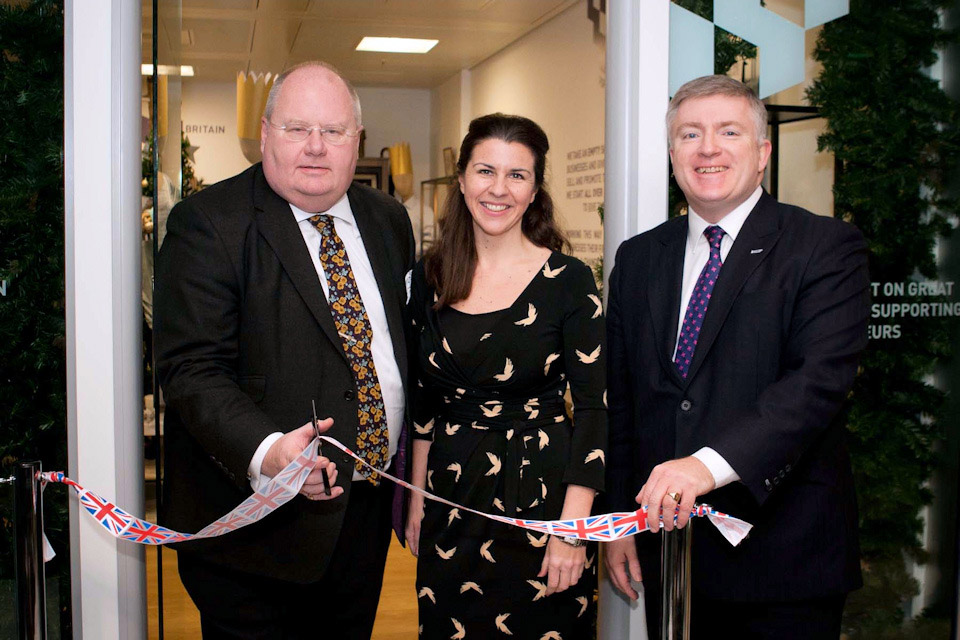 Mr Pickles unveiled the first ever Whitehall pop-up shop with 'Apprentice' winning entrepreneur Tim Campbell. Every fortnight six new British start-up businesses will move into the shop, sharing costs and trialling their exciting ideas.
The shop will be open to the public for at least a year and will offer affordable retail space to over 150 small start-up businesses. The department is not seeking any financial return from the shop, which is being supported by sponsors Intuit, John Lewis, SNR Denton and StartUp Britain.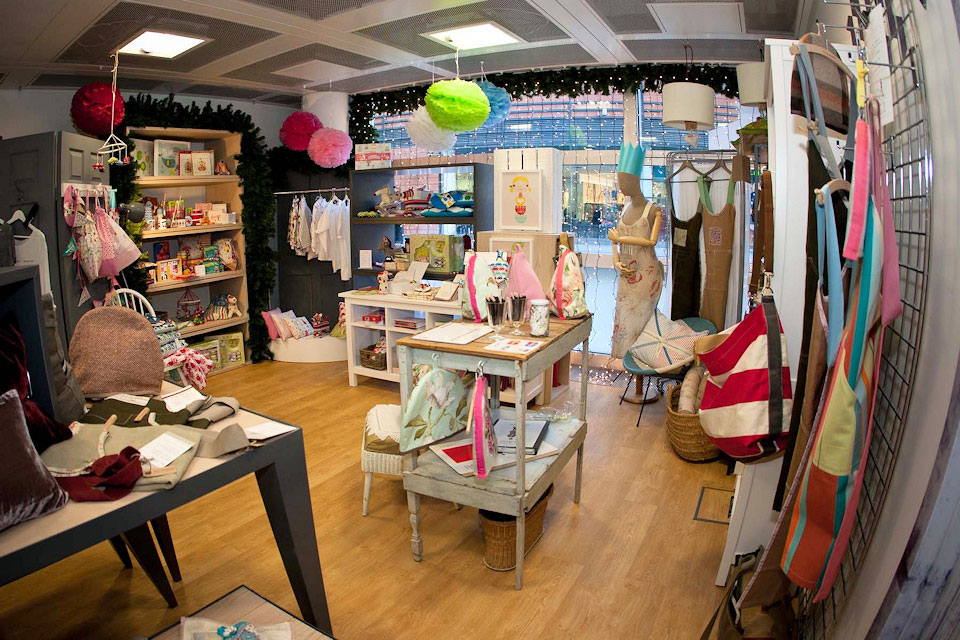 Ministers believe pop-ups are a great way to get empty spaces used and could be easily replicated in other town centres across the country. Mr Prisk has written to the British Property Federation to urge landlords to get on board. He said that, starting in January, all 27 Portas Pilots and 330 Town Team partners will receive support to facilitate new pop-ups in their empty high street premises, which could support thousands of new businesses.
The government is committed to rejuvenating the high street. A multi-million pound strategy is backing local partnerships such as Portas Pilots and Town Teams to breathe new life into their town centres. This includes a doubling of small business rate relief; mentoring from retail experts; and workshops to address town centre challenges. A guide to opening a pop-up will be published soon and StartUp Britain has published a tool kit today.
The government is providing over £80 million of start-up loans for young entrepreneurs, which could create over 30,000 new businesses. Ministers are also changing planning restrictions so that landlords can alter how an empty shop is used for up to two years.
All these steps will make it easier for start-ups to find other low-cost stores to set up in. Last year 450,000 people set up new businesses and almost two thirds of new start-ups say they would benefit from trading on the high street.
Eric Pickles said:
"We are absolutely determined to support the high street and we know pop-ups are a great way to bring empty shops back to life and get new businesses going, so we thought 'why not open one right here in the department?'. It will also showcase how we can unleash more of our best and brightest young entrepreneurs onto the country's high streets."
Emma Jones, co-founder of StartUp Britain, said:
"The PopUp Britain model gives retail entrepreneurs an affordable opportunity to scale up their businesses and become a part of their own high street.
"We're seeing record numbers of people setting up businesses and they are starting out small and online. They are the driving force of the economy. This initiative offers them a chance to physically test out new markets as well as get their products in front of consumers and big buyers in a way that has never been available to them before.
"By actively encouraging local authorities to give start-ups access to empty shops across Britain, we hope it will help accelerate British enterprise as well as providing a vibrant addition to the local British shopping experience."
Mark Prisk said:
"There's a real appetite in our town centres to get them revitalised so they remain attractive places to visit. And it's not just talk: there are many extremely capable and serious people with some superb ideas; but they need a bit of help to get started.
"Pop-up shops are a superb way for all sorts of entrepreneurs to test their ideas. So I'm delighted that this department is opening the first pop-up shop in Whitehall and I look forward to inviting all 27 Portas Pilots and 330 Towns Teams here to see how they could replicate this model across the country in the new year."
'Apprentice' winning entrepreneur Tim Campbell added:
"This is a brilliant idea and it is great to see the government actively supporting business in this way. For many aspiring and growing enterprises, having access to a retail unit where new propositions and ideas can be tested directly with customers can be the catalyst to increase sales. I hope other landlords follow this example.
"At the Bright Ideas Trust, where we invest in businesses started by young unemployed people, we see many business struggle to secure retail space as they grow out of their bedrooms and away from their kitchen tables."
Further information
StartUp Britain
StartUp Britain is a national campaign by entrepreneurs for entrepreneurs, harnessing the expertise and passion of Britain's leading businesspeople to celebrate, inspire and accelerate enterprise in the UK. The campaign was founded by eight entrepreneurs and was launched in March 2011 by the Prime Minister. It has successfully run pop-up stores in Richmond, Surrey, which opened in July and which have already helped 42 businesses get access to the high street. Four in five of the tenants said the experience had been good for their business.
First six pop-up Britain Victoria tenants
Established 6 months ago by 27-year-old Shrewsbury-based designer Sarah McLeod, silk scarf company NANUKK features beautiful pieces of Art printed onto silk fabrics. All the scarves are made in England. Sarah has been labelled as one to watch, after she was awarded the River Island Graduate Fashion Week Award in 2008. Sarah said: "It will be great to have a physical presence in the marketplace at last! So far I've only been online. People will love the feel of my silk scarves and I hope it will make them buy. I'm so excited!"
Milla & Arti was set up by product design consultant Deborah Reyner 18 months ago. Her British-made homeware collection includes bespoke lavender hearts for weddings, patchwork kits, gift ties and ribbons, collars and bows. Deborah said: "This is a wonderful opportunity for Milla & Arti and to talk about my products which are made by the British seaside and get people interested in making and doing themselves. I haven't been able to sleep for a week before this, I'm so excited!"
Brother and sister Mark and Clare Lissaman named their ethical organic cotton men's shirt company after their grafting grandfathers. Arthur & Henry was developed after ethical consultant Clare noticed there were no ethical formal shirts on the market. "I was at the World Congress on Organic Cotton a few years back and realised that although all the men attending were passionate about organic cotton - none were actually wearing any as they were all suited up and couldn't find proper smart shirts in organic cotton," Clare, from Islington, said. "So we thought we'd make some.
"We're thrilled and delighted to have this opportunity. For a newly established, ethical menswear brand, this is an amazing opportunity to meet customers face-to-face."
Single mum and former interior designer Esther Gibbs, from Chiswick, created London Mummy after people kept asking her where she bought the cushions and accessories she had made herself. All her products are now either made in England – some by Esther herself - or by women's collectives in China. Her handpicked selection includes retro bed linen, colourful crochet animals, quirky kids' stationery, classic toys and games, funky lunchboxes, wall art and more. Esther also makes beautiful children's fabrics, which she sells in store too.
Esther said: "I sell online but I'll sell much more in the shop. Once people understand what the shop is about and what it's doing for small British businesses, it will be a great asset for the high street and small businesses. I'm delighted to be involved."
Sock entrepreneur Philip Morrow, 25, started Morrow's Outfitters last year as a way to re-establish his great-grandfather's former gentlemen's outfitters shop that operated in Liverpool between 1912 and 1987. His range of Loughborough-made cotton socks come in over 40 designs and colours. Phillip said: "Pop-up shops make a great deal of sense for small online businesses such as mine. I'm over the moon about getting the opportunity to come into PopUp Britain in Victoria."
Full-time English teacher and designer Alia Qadir, 30, from Ealing, started The English Tee Shop in an effort to combine her passion for fashion and love of grammar! All her cotton is English-made and printed. She sells online and runs her business part-time from home.
Alia said: "Until now I have relied on my online presence to sell my brand. But my T-shirts are made from a really good quality, soft jersey, and that doesn't come across online. I'm really delighted about this new pop-up adventure!"
New Town team tool kit
With the prototype shopping concept comes a newly-developed pop-up-specific tool kit for Town Teams to implement, including:
a national pop-up lease
a central website with information about the initiative for town teams and new businesses interested in applying for a slot at www.popupbritain.com
access to free pop-up payment equipment
a step-by-step guide for setting up a PopUp Britain shop
PopUp Britain branding to make the shop recognisable to the consumer as a place where they can support British enterprise
Portas Pilots
Taking forward the first recommendation from Mary Portas's high street review, the department is running a number of high street Town Team Portas Pilots in England. We're encouraging local partnerships and consortiums to come up with innovative ideas about how to transform their local high street into a social place, bustling with people, services and jobs. Twelve town centres from across England were selected as the first Portas Pilots Town Teams in May, and 15 more in July, with three from London, bringing the total to 27. They each receive up to £100,000 of funding plus support from Government and retail expert Mary Portas. More detail can be found on the Improving high streets and town centres pages.
Town Teams
The 330 Town Team Partners support includes: an advice line and a network of advisers managed by the Association of Town Centre Management; special national events to learn from other Town Teams, and support from industry experts and trade bodies including an online 'Knowledge Bank' with expert advice; regular meetings with other Town Teams to share tips and ideas; and 'Crowdfunding' - a potential way to attract local investors and raise small amounts of finance to support their work. All Town Team Partners will also benefit from a Government-sponsored fund designed to help towards getting their plans off the ground.
Statistics
Key statistics and evidence on start-ups in the UK
2011 saw a record high for start-ups: over 450,000 people set up a company and became their own boss
a StartUp Britain poll revealed 82% of start-ups found the pop-up experience was valuable for their business
in the UK, there are 4.8 million private sector companies employing an estimated 23.9 million people with a turnover of £3,100 billion. Small and medium-sized enterprises also account for almost half of the net growth in jobs
according to the latest figures from the British Retail Consortium, 11.3% of shop premises in UK town centres are now vacant
according to research from StartUp Britain, 63% of businesses not already on the high street think their business would benefit from a high street presence and, of these, 88% believe funding is the biggest barrier
Additional quotes
Luke Johnson, Chairman of StartUp Britain, former Pizza Express boss and Chairman and part-owner of Patisserie Valerie and Giraffe, said:
"A new high street name that will become synonymous with buying British and supporting small British enterprise is a fantastic idea. I'm sure PopUp Britain will be embraced by town planners and local government as a way to offer tangible support to their own high streets and start-up communities."
Nick Russell, Chief Executive of WeArePopUp, said:
"Pop-ups are ideal incubators for the next generation of entrepreneurs. It's very encouraging to see the Government opening a national showcase in a high-profile location such as Cardinal Place in Victoria. Pop-ups can change the fortunes of local communities and we look forward to this support encouraging more landlords to open up their empty shops and become part of the solution."
Rosie Cann, Director at Popupspace, a property consultancy that specialises in pop ups, said:
"We find space for lots of established retailers, but the challenges for new businesses wanting to open shops are much wider. What we have here is a unique offering to smaller start-ups looking for affordable space to sell, but also for business support and a high profile."
Mark Little, UK Managing Director of Intuit, said:
"Pop-up tenants need to be able to accept card payments but it can take weeks to get set up, the equipment and transactions can be expensive and require long-term contracts. Intuit is proud to support PopUp Britain with Intuit Pay, giving start-up retailers a way to get set up in minutes to securely take card payments on their smart phone or tablet – with no commitment and no contracts. With Intuit Pay anyone can now accept card payments."
Photos of the shop are available from the DCLG Flickr channel.
Published 17 December 2012
Last updated 18 December 2012
+ show all updates
A YouTube video has been added.
This news article was converted to a news story