Eric Pickles meets councillor James Bond and champions double devolution
Moving decision-making power from central government to councils and communities.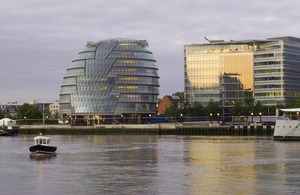 Communities Secretary Eric Pickles met newly elected councillors for London and outlined the government's vision of a fundamental shift of power from central government to individuals, communities and local authorities.
One of the new councillors he met at the event at City Hall on Thursday 1 July was James Bond, an independent councillor for Harrow.
The reception was organised by the London Assembly and London Councils to welcome members to their role, show how the organisations can work together and enable the councillors to meet others from across London.
Addressing the new councillors Eric Pickles, said:
"Whatever your politics this is the most exciting time to be in local government. For too long central government treated local government like a lapdog: feeding it scraps with one hand, while keeping it on a tight leash with the other. That's not how our relationship is going to work. I have too much respect for local government for that. I trust you - the councillors - to make right decisions for your community. We can build a Big Society and make localism a reality.
"I want to see double devolution, not just transferring power from central government to local authorities, but for power to transfer down to individuals and communities.
"I say to you as new councillors - don't hang around waiting for instructions from central government. The opportunities for you to exercise real power, make real decisions, make a real difference in your community are there for the taking."
Published 5 July 2010