Eric Pickles' local shop parades plan
Strategies to revive neighbourhood shops Clearing out the louts, setting up savvy services and rallying round the community are top of a &lsquo…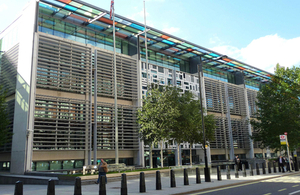 Strategies to revive neighbourhood shops
Clearing out the louts, setting up savvy services and rallying round the community are top of a 'shopping list for success' that can transform run down neighbourhood shops into parades to be proud of, announced Communities Secretary Eric Pickles today.
Mr Pickles is publishing a new guide that gives hands on practical advice and insights on how to restore local shops into vibrant business areas that are full of local character and sit at the heart of neighbourhood communities. This builds on the high street review by Mary Portas and the announcement of 12 'Portas Pilots'.
New research shows that local shopping parades - traditionally a neighbourhood preserve of convenience shops, greengrocers, newsagents and cafes - are crucial to the economy. These micro businesses hire on average less than ten employees each, but still account for over half a million local jobs across England.
These vital local shops are facing mounting challenges from lack of investment, anti-social behaviour and competition from online shopping and mega-store discounts. For example in the past ten years out-of-town retail spending rose by almost 30 per cent while neighbourhood stores only increased by 18 per cent.
The new guide Parades to be Proud of: Strategies to support local shops sets out 'a shopping list for success' for village or neighbourhood communities and shop owners to think about to rejuvenate their local shopping parades. It recommends:
Making parades safer - many local shopping parades have become rundown and magnets for anti-social behaviour like intimidating shoppers, littering or graffiting that affects footfall. Shop owners and councils should work together to find ways to buy lighting, CCTV, shop front awnings or shutters or work with the police to set up neighbourhood watch schemes will all help increase street safety.
Restoring pride in parades - in order to continue to thrive, local business need to think creatively and innovatively about how to enhance their shops. A collective focus on the parade's selling points, sharing advertising costs, or maximising the impact of personalised face-to-face services and local knowledge can all help restore its reputation.
Rallying round the community - working with community organisations to champion local events like street fairs or running community services will attract local residents and help make the parade the hub of the community.
Communities Secretary Eric Pickles said;
In the past too many neighbourhood shopping parades have been left to fade in memory and outlook. Convinced they can't compete with the mega stores and besieged by gangs of louts they have become tatty, no go zones turning our beloved local convenience store into the local inconvenience.

We've taken action to back local firms and small shops and today we are offering up ways to rescue run down shop parades by kicking out the louts, set up savvy services for shoppers and restoring the local pride in parades.

This Government is committed to promoting local economic growth. Parades should be thriving beacons of local business, home to the character of the neighbourhood community and the local shoppers' destination of choice.
Today's guide makes it clear that local shop parades have not been forgotten and that their role in the community remains vital. It sets out the Government support on offer to this specific type of local shop including:
In addition the Government is also offering wider support through:
Notes to editors
Published 6 June 2012