Eric Pickles calls time on unitary Norfolk, Suffolk and Devon
Eric Pickles has called time on the wasteful and unnecessary restructuring of councils in Norfolk, Suffolk and Devon.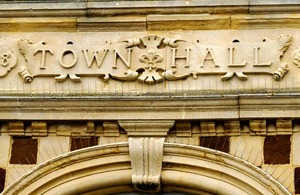 The Secretary of state for Communities and Local Government introduced an urgent Bill that will stop the plan to create unitary councils in these areas.
His action will save the taxpayer £40 million and will halt the diversion of time and money away from the priority of improving frontline services.
Pulling the plug
Secretary of State for Communities and Local Government Eric Pickles said:
When the priority must be to tackle the immense public deficit we have inherited, it is ludicrous that taxpayers' money is being wasted imposing a council reorganisation in Exeter and Norwich.

This government made it clear in its Coalition Agreement that reducing unnecessary spending would be part of how we cut the deficit. Today I am pulling the plug on this expensive distraction and saving the taxpayer £40 million of restructuring costs.

Councils in Devon, Norfolk and Suffolk will now be able to concentrate on delivering services to their communities and achieving genuine savings for the local people who elected them.
Facts and figures
stopping the changes will save the taxpayer £40m in restructuring costs
there will be less pressure on local council tax bills
creating a unitary council in Exeter would add over £200 to local tax bills according to estimates by Devon County Council
in a recent consultation, over half of Norfolk and the vast majority (85%) of Devon favoured no change to their council
the majority of councils affected by the changes were very opposed and saw it as an example of Government interference
Published 26 May 2010