Eric Pickles and Louise Casey address troubled families co-ordinators
Communities Secretary Eric Pickles has told troubled families co-ordinators that they are at the vanguard of a revolution in social policy. …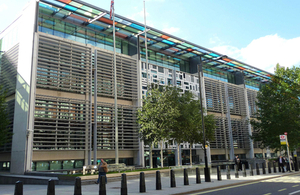 Communities Secretary Eric Pickles has told troubled families co-ordinators that they are at the vanguard of a revolution in social policy.
The Department for Communities and Local Government on Tuesday brought co-ordinators from all 152 upper-tier local authorities in England to London for a major national conference on delivering the Prime Minister's pledge to turn around the lives of 120,000 troubled families in the next three years.
Louise Casey and Eric Pickles speaking to troubled families co-ordinators
Hosted by head of the troubled families programme Louise Casey, the conference looked at ways of working with some of the hardest to reach families in the country in order to reduce youth crime and anti-social behaviour, get children off the streets and into school; and put adults on a path back to work.
And Secretary of State Eric Pickles told the co-ordinators that David Cameron "is obsessed by this issue":
What I'm keen on - where you have small numbers of families ruining areas and estates - is not just saving money but saving people - these are lives unfulfilled. You coordinators are going to do challenging work. You will be my revolutionaries! You will be looking at problems of the household as a whole, not as individuals.

Across the political spectrum there is angst and guilt at not having dealt with this before. But where it is really working we are already seeing results. But I'm in a hurry. And that's because we need momentum. So that we can show the sceptics that there is another way.
Funded by DCLG, co-ordinators will oversee each upper-tier authority's troubled families programme and targets, bringing local agencies such as health, housing, social services, education and the police together on the ground in order to tackle problems in a joined-up way.
In her keynote speech to the conference, Louise Casey called on co-ordinators to be assertive, authoritative and challenging, and argued that the fate of the programme was in their hands:
I've given quite a lot of speeches since I took this job in December, but I have to say that this is the most important speech, to the most important audience so far. That is because I've made a huge commitment - to turn around the lives of 120,000 families - and you are the people who will determine whether that commitment is fulfilled and ultimately whether the troubled families programme succeeds or fails. This is a job that, for all of us, is not for the faint hearted.

As troubled families co-ordinators you will be at the forefront of this push to bring about real change in families' lives - the ambition being that their children will be going to school, they won't be committing crime and anti-social behaviour and they will no longer be costing vast amounts of money in everything from noise complaints to police call outs and care proceedings.

We can all see that something needs to give and we need to do things differently. We have to reduce the vast amounts we are spending right across public services on these families. Something has to give in terms of changing these families' lives, but something also has to give if we're going to reduce the resources these families absorb from your purse.
Images
Published 18 September 2012