World news story
Equal access to education and care for all women in Macedonia
British Embassy supports development of inclusive policies and services in Macedonia to help women have improved quality of life.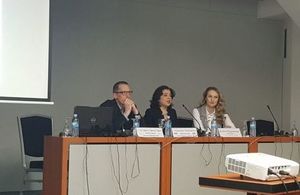 The need for increased social and health care for women and the need to invest more in the education of girls in rural communities in Macedonia were at the centre of the debate we hosted within our work with Macedonia on strengthened policy making.
Researchers presented the findings which reflected the lack of resources and the hot spots where interventions are needed by the state institutions providing social and health care and schooling for girls and women.
The event is part of a two year programme we have been running with the Helsinki Committee for Human Rights in Macedonia. The programme delivered extra support to government policies which benefit parts of society which, for diverse reasons, find it more difficult to realise their potential, to achieve their ambitions. The groups of people included with this programme were disabled people, Roma, women in rural communities.
Speaking at the event our ambassador Charles Garrett said:
This programme gives voice to the people who really matter. The people who are directly affected by these policies. The people who sometimes cannot fully enjoy their legal rights, social and health care, or access to education. The programme helps ensure that the people designing policies or making decisions hear directly from the people who matter. I have found that people often refer to the cause of disabled or other disadvantaged members of society as being 'close to their hearts.' I can understand that. This can be a very emotional subject. But it is also a very practical subject. If you support everyone to achieve their full potential, the boost it gives society – your society – can be huge. So it is about heads as well as hearts.
Among the speakers at the debate were the Health Minister Venko Filipce, representatives of the Ministry of Labour and social policy, researchers, people from the rural communities and members of the civil society.
British Embassy Skopje runs a range of programme assistance in Macedonia providing support in several reform areas with the civil service, judiciary, human rights, democracy, social cohesion, public finance management, strengthening civil society and media. You can find more information about our programme assistance here.
Published 22 March 2018