Government response
Environment Secretary response to interim Elliott Review
Owen Paterson responds to the interim findings of a review he commissioned into the integrity of our food network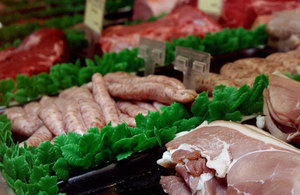 Responding to the interim Elliott Review published today, Environment Secretary Owen Paterson said:
I am pleased that Professor Elliott's interim review recognises that there are good systems in place to ensure UK consumers have access to some of the safest food in the world. We want to keep it that way.

It is appalling that anyone was able to defraud the public by passing off horsemeat as beef. That is why I commissioned an urgent review into the integrity of our food network.

The UK food industry already has robust procedures to ensure they deliver high quality food to consumers and food businesses have a legal duty to uphold the integrity of food they sell. It is rightly highly regarded across the world and we must not let anything undermine this or the confidence of consumers in the integrity of their food.

We will continue to work closely with the food industry, enforcement agencies and across local and central Government to improve intelligence on food fraud and our response to it.
Significant action is already being taken to prevent and identify food crime, including:
unannounced inspections of meat cutting plants have increased, with 1,450 having taken place since January this year
the food industry undertakes a rigorous testing programme to ensure food authenticity. For horsemeat alone, the results of 31,000 tests have been reported to the Food Standards Agency
the Food Standards Agency (FSA) is undertaking a study to test that products which are labelled as being from the UK are, in fact, from the UK
the government has increased funding to £2 million to support local authorities' coordinated programme of food sampling
the Food Standards Agency will lead further testing of beef products for horsemeat
the Food Standards Agency is working with the European Commission (DG SANCO) and other Member States to establish an EU wide food fraud unit
the Food Standards Agency is working with industry and the European Commission to identify further targeted sampling programmes and how they might be implemented
the Food Standards Agency is developing a new Intelligence Hub to improve its capability to identify, and prevent, threats to food safety and integrity that are identified by expert analysis based on the approach to intelligence used by police
The interim report will now be considered ahead of Professor's final report due to be published next year.
Published 12 December 2013