Press release
Environment Minister visits changing coastline in eastern England
Environment Minister Richard Benyon will see first-hand how coastal erosion is changing the shape of eastern England's coastline during a visit to East Anglia today.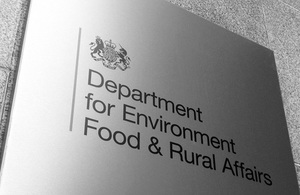 Mr. Benyon said:
"I want to see for myself exactly how erosion is affecting the coastline and to learn from the people who live with it on a daily basis.
"Coastal erosion is a natural process that will continue to shape our coastline. Expenditure on flood and coastal risk management is currently at record levels but we need to work more closely with communities to get a better understanding of the risks and how best to deal with them."
Richard Benyon will travel along the coast from Cromer to Happisburgh, from Winterton to Hopton, through Lowestoft and into Aldeburgh. During the journey he will discuss the impacts of coastal erosion with MPs Norman Lamb and Brandon Lewis. He will also be meeting coastal communities groups, local businesses and individuals who are affected by coastal erosion each day.
Much of the coast is already suffering from erosion which is set to increase over the next 100 years, affecting buildings, businesses and the natural environment. Record levels of investment are providing flood defences to protect people and property where it is sustainable to do so, and also supporting a national programme to manage flood risks.
Mr. Benyon continued:
"As a Government we have to consider not only what we spend but also how we support and enable communities to better manage and adapt to the risks"
Notes
£11 million was awarded to 15 local authorities at the end of last year as part of the coastal pathfinders fund. The money is being used to trial new ways of dealing with and adapting to coastal change.
The Environment Agency's core flood defence grant for 2010/11 (£629m) remains higher than last year (£607m) and remains a record level of investment.
Published 3 September 2010