Environment Bill further strengthened to tackle storm overflows
Change will further bolster the present raft of measures planned for Environment Bill which will tackle water pollution.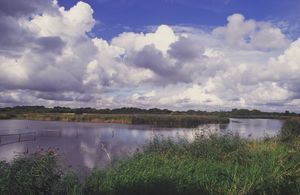 The Government has today (26 October) announced that the Environment Bill will be further strengthened with an amendment that will see a duty enshrined in law to ensure water companies secure a progressive reduction in the adverse impacts of discharges from storm overflows.
The amendment bolsters the raft of measures already being taken by Government through the Environment Bill, which as currently drafted will put in place more protections against water pollution than ever before.
Earlier this year the government published a new set of strategic priorities for the industry's financial regulator Ofwat, which set out the direction from government that water companies must take steps to "significantly reduce storm overflows" and that the regulator should ensure funding should be approved for them to do so. This publication – known as the Strategic Policy Statement - strongly influences investment decisions and is one of Government's key tools in driving action from water companies.
This amendment will enshrine that expectation in law, to further align the Bill with the government's strategic priorities for the sector and help to drive action from industry.
Environment Secretary George Eustice said:
Earlier this summer, the Government published a new strategic policy priorities for Ofwat and the water sector asking them to significantly reduce the discharge of sewage from storm overflows in the next pricing review.

Following a debate in the House of Commons last week during the final stages of the Environment Bill, today we are announcing that we will put that commitment on a statutory footing with a new clause.
During wet weather, storm overflows release diluted wastewater into rivers, preventing a combination of sewage and rain from overloading the sewers and backing up into homes and businesses. As climate change has led to greater rainfall, and water infrastructure has not kept pace with population growth, their use has increased in recent years.
Significant penalties have already been handed out to water companies discharging unacceptable amounts of sewage into our rivers. Earlier this year, Southern Water received a record-breaking £90m fine, while Thames Water was handed £4m and £2.3million fines for separate incidents.
The Government will hold underperforming companies to account, and is already taking direct action to deliver progressive reductions in the harm caused by storm overflows through measures in the Environment Bill, including:
a new duty directly on water companies to produce comprehensive statutory Drainage and Sewerage Management Plans, setting out how they will manage and develop their drainage and sewerage system over a minimum 25-year planning horizon, including how storm overflows will be addressed through these plans.
a power of direction for the government to direct water companies in relation to the actions in these Drainage and Sewerage Management Plans if they are not good enough. We will not hesitate to use this power of direction.
at least one new target to drive progress in the priority area of water. In our policy paper published in August 2020, we set out the objectives for targets currently under consideration. For water, these include reducing pollution from agriculture, wastewater, and abandoned metal mines, and reducing water demand
a new duty on Government to produce a statutory plan to reduce discharges from storm overflows and their adverse impact, and report to Parliament on progress.
a requirement for government to produce a report setting out the actions that would be needed to eliminate discharges from storm overflows in England, and the costs and benefits of those actions. Both publications are required before 1 September 2022.
a new duty directly on water companies and the Environment Agency to publish data on storm overflow operation on an annual basis.
a new duty directly on water companies to publish near real time information - within one hour- on the operation of storm overflows.
a new duty directly on water companies to monitor the water quality upstream and downstream of storm overflows and sewage disposal works.
The Government has also taken significant action outside the Bill:
Between 2020 and 2025, water companies will invest £7.1bn on environmental improvements in England, including £3.1 billion on storm overflow improvements alone.
We have committed to undertaking a review of the case for implementing Schedule 3 to the Flood and Water Management Act 2010 in England. This Schedule would set mandatory build standards for sustainable drainage schemes on new developments.
All of these measures are informed by the work of the Storm Overflows Task Force which brings together key stakeholders from the water industry, environmental NGOs, regulators, and Government in order to drive progress in reducing sewage discharges. The Taskforce has agreed a long-term goal to eliminate harm from storm overflows.
The age of our Victorian sewerage system means a complete elimination of discharges from storm overflows would be extremely challenging and initial assessments suggest would cost over £150bn according to the Storm Overflows Evidence Project, commissioned by the Storm Overflows Taskforce. The full research report will be published shortly.
Our Environment Bill will ensure we deliver the most ambitious environmental programme of any country - transforming how we protect our natural environment, make better use of our resources and clean up our air and water.
The Government has previously made amendments that set a new, historic legally-binding target to halt species decline by 2030 and allow ministers to introduce charges on all single-use items, not just plastics, helping to cut waste and put an end to throwaway culture. New measures will also help landowners secure long-term environmental benefits through conservation covenants and better protect ancient woodland in England.
The amendment is also very similar to Amendment 45 in the name of the Duke of Wellington, which was debated in the House of Commons on Tuesday. The Government will bring forward the amendment in the House of Commons, when the Bill returns there for the next stage of passage.
The Strategic Policy Statement to Ofwat is a very powerful tool for the Government to drive action from water companies, as it strongly influences investment decisions and financial assessment. The Government consulted on the Strategic Policy Statement recently.
Published 26 October 2021