Press release
Environment Agency's top man to visit Devon (Friday 18 December)
Sir James Bevan, the new chief executive of the Environment Agency, is visiting Devon this week.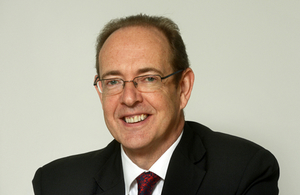 The former diplomat, who only took over his new post last month, was recently in Cumbria where he witnessed, at first hand, the flood damage caused by Storm Desmond. He is keen to visit Devon and learn about the building of the new Exeter flood defence scheme.
There will be a photo/film opportunity with Sir James Bevan at Exeter flood defence scheme on Friday at 12midday when he will visit the completed first phase of the project at Haven Banks. He will also see the design challenges of the second phase when visiting Exeter Quay and Bonhay Gardens.
Sir James will also learn more about how the Environment Agency works with the Met Office in the Flood Forecasting Centre on Thursday evening.
Commenting on the Cumbrian floods, Sir James said:
Whenever an exceptional event happens it's important to review what happened and how to prepare for the future. With a £60 million fund to help with recovery in Cumbria, in addition to the £2.3 billion Government have committed to protect homes from floods across the country, we have the resources necessary to manage flood risk in England. The National Flood Resilience Review and the Cumbria Floods Partnership give Government, the Environment Agency and community groups the forums to review and ensure we are directing our resources to protect people most effectively.
Sir James has set himself the task of visiting all 16 of the Environment Agency's areas in his first 100 days of office.
Notes to editor
Sir James is an experienced civil servant who has worked both in the UK and abroad for over 30 years. His last role was the UK High Commissioner to India (2011 – 2015). Before that he was the Foreign Office's Chief Operating Officer responsible for a complex global network of posts, 14,000 staff and £1 billion budget. He was awarded a Knighthood in 2012.
On taking up his new post Sir James said:
One of the biggest challenges of our time is protecting the environment and promoting growth. We need to do both and I look forward to playing my part in that. The Environment Agency is a great organisation which makes an important contribution to our country. It will be an honour and a priviledge to lead it.
Recalling his previous job as High Commissioner to India, Sir James said:
In India I saw what happens if you don't protect the environment. I've been to Bhopal, the site of the world's worst industrial accident. It killed thousands – a stark lesson in what can happen if you don't regulate industry properly. I spent four years in the world's most polluted city – Delhi. I've seen rivers so polluted that swimming in them would kill you. I've been to places where unlicensed construction made floods more likely and then killed more people when they happened.
Published 15 December 2015