Press release
Environment Agency warns of significant flooding in northern England this weekend
The Environment Agency is urging communities in northern England to take immediate action to prepare for flooding this weekend.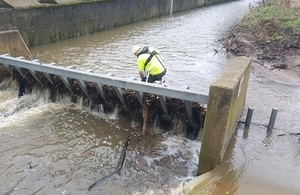 Persistent heavy rain throughout Saturday and Sunday is expected to bring significant flood risks across Cumbria and Northumberland.
Heavy rain will be falling on already saturated ground throughout the weekend, raising the risk of flooding to its highest level. Severe flood warnings have been issued for parts of the River Tyne in Northumberland and in Cumbria, the River Greta at Keswick and River Eden at Appleby. Residents in Carlisle are also being warned to prepare for flooding as very high river levels are expected later today. Further flood warnings will be issued as necessary.
There is also likely to be significant flooding from rivers and surface water across parts of Lancashire, the West Pennines and the Cheviot Hills. The River Ouse in Yorkshire is continuing to rise, with levels likely to be raised until Tuesday.
Some localised flooding is expected to persist along the River Severn over the coming days as it responds to further rainfall. The Environment Agency raised temporary defences in Shrewsbury, Ironbridge, and Bewdley earlier this week to protect properties from flooding.
Environment Agency teams are out checking and maintaining flood defences, clearing blockages in watercourses, monitoring water levels and working with local flood wardens in the areas worst affected. Pumps are being moved to areas most at risk.
People can be prepared by checking their flood risk. If travelling, people should not attempt to drive through flood water – 30cm of flowing water is enough to move your car.
Jonathan Day, Environment Agency Flood Risk Manager, said: "River levels across northern England are already high and we are expecting to see severe flooding locally as a result of today's rainfall, with communities in Cumbria likely to be the most affected due to flooding of roads and properties.
"We are working closely with the emergency services and partners to make communities aware of the risk of flooding and take urgent action where necessary. Our teams are in action clearing watercourses, maintaining flood defences and putting up temporary defences where these can be effective.
"We urge people not drive through flood water: just 30cm of flowing water is enough to move your car. People should check their flood risk and keep up to date with the latest situation by following @EnvAgency and #floodaware on Twitter."‎
Published 5 December 2015