Press release
Environment Agency warns of more flooding and travel disruption across London and south-east
The Environment Agency is warning people that continued heavy rain could lead to further flooding across London and the south-east this afternoon (23 June) and into the evening.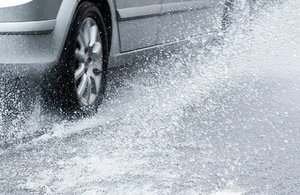 Thundery downpours this afternoon could cause further flooding in local communities, affecting properties and disrupting travel as roads, London Underground and rail lines are affected.
A number of rivers in the London area have reached their highest recorded river levels over the past 24 hours. These include the River Rom, River Wandle, Beverley Brook at Wimbledon, the River Shuttle at Bexley, River Ravensbourne at Bromley and the River Ingrebourne near Rainham, Essex. There continues to be a risk of flooding from smaller, fast-responding rivers in built-up areas.
Across other parts of the south-east and the East Midlands, there is potential for further surface water flooding as a result of scattered showers.
Doug Wilson, Environment Agency Flood Risk Manager, said:
"Torrential downpours across the south-east including London could lead to further surface water flooding and significant disruption to travel on Thursday.
"Environment Agency teams are out on the ground, supporting communities and our partners to reduce the impacts of the heavy rain, and we will issue flood warnings and alerts where necessary. If travelling, we urge people not to drive though flood water – it is often deeper than it looks and just 30cm of flowing water is enough to float your car.
"People should check their flood risk and keep up to date with the latest situation at www.gov.uk/check-if-youre-at-risk-of-flooding or follow @EnvAgency, and #floodaware on Twitter for the latest flood updates."
The Environment Agency has issued 7 flood warnings and 40 flood alerts (as at 14.00).
Published 23 June 2016