Press release
Environment Agency supporting flooded communities and preparing for heavy rain
The Environment Agency is supporting flooded communities in preparation for further rainfall over the Christmas weekend.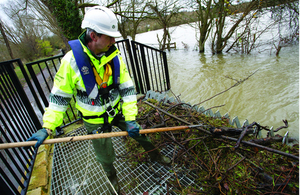 Environment Agency teams are taking action to support communities affected by December's floods and preparing for heavy rainfall late on Christmas Day into Boxing Day. This means there is the potential risk of further river and surface water flooding in the north of England. The Met Office have today confirmed this is the wettest December on record for Cumbria since records began in 1910.
In addition to Cumbria's existing flood defences, the Environment Agency has transported over 2 kilometres of temporary flood barriers and more than 20 extra pumps to the north of England. 4 of these are high volume pumps capable of moving 1,000 litres of water per second (one metric tonne, or 219 gallons of water per second). The Environment Agency is also checking and maintaining flood defences, clearing blockages in watercourses and monitoring water levels. It will issue flood warnings where necessary.
On Monday and Tuesday, rain falling on saturated ground led to a further rise in river levels in Cumbria. This caused flooding to roads and properties previously flooded in Appleby, Glenridding and Burneside.
Since 1 December, many areas in Cumbria have experienced more than 2 and a half times their expected monthly rainfall. The wettest December on record for Cumbria follows the county's second wettest November on record. At Keswick, 472mm of rain has fallen since 1 December 2015, the long term monthly average for December is 173mm. At Shap, 677mm has fallen compared with its long term monthly average for December of 215.6mm. On Saturday 5 December, 341mm of rain fell in 24 hours at Honister Pass. This is a new UK record for a 24-hour period.
Paul Mustow, Deputy Director in Flood and Coastal Risk Management at the Environment Agency, said:
Our thoughts are with all those who have had their homes and businesses flooded, some several times, in the run up to Christmas. Our operational teams are working throughout the Christmas period to take action to reduce the potential impacts of flooding and support those communities affected.

With further rain forecast, we urge people to remain vigilant and check their flood risk or follow @EnvAgency and #floodaware on Twitter for the latest flood updates. We also want to remind people never to drive through flood water: just 30cm of flowing water is enough to move your car.
Continuing rain in Wales could also see parts of Worcestershire, Telford & Wrekin and Shropshire experience flooding impacts to land and roads from the River Severn. There is also the chance of seeing further flooding impacts for parts of the River Ouse in Yorkshire and the City of York over the coming days.
High tides are also expected around Christmas, bringing with them the potential for isolated instances of large waves and spray along parts of the south and west coast of England. The Environment Agency is advising people to take special care near coastal paths and promenades.
Published 24 December 2015