Press release
Environment Agency stages open morning on Somerset Levels
The Environment Agency is staging a community open morning after passing the halfway point of dredging on the Somerset Moors and Levels.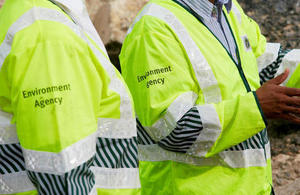 The Agency has dredged a 4 kilometre length of river (8 km of total river bank length) on the Parrett and Tone and removed 80,000 tonnes of silt and remain on target to finish the work by the end of October this year.
People are being invited to drop in to the main dredge compound at Samway's, Riverside, Burrowbridge, Bridgwater, Somerset, on Saturday 30 August, between 10am and 12.30pm to talk to experts about the dredging operation and its part in the 20-year-plan. Everyone will also be given the opportunity to explore inside one of the excavators used during the dredging operation.
Graham Quarrier for the Environment Agency:
We would ask people to come along to find out more about the dredging and the other work we are completing in the local area. As well as completing the dredge, we are repairing local 'assets' like river banks and pumping stations that were damaged in the floods. These repairs include work mentioned in the 20 year plan for the Somerset levels and moors.
The dredging is being undertaken using a mixture of floating equipment, large excavators mounted on the riverbanks and even amphibious dredgers. This range of equipment is needed to cope with the large tidal range in the river and the soft ground conditions on the banks.
A fleet of tractors and trailers, many driven by local farmers, are carrying the silt away for spreading on agricultural land or for flood bank strengthening. A crop has already been harvested from the first fields that the silt was spread on, back in April.
People living in the area should also be aware that the A361 is closed for 100 metres either side of the East Lyng Railway Bridge from Friday 29 August until Sunday but there is a diversion in place to try and minimise disruption.
Ends
Published 28 August 2014