Press release
Environment Agency staff help registrars get to the church on time
Environment Agency staff are the toast of newlyweds in West Sussex for helping snow-bound registrars get to the ceremony on time.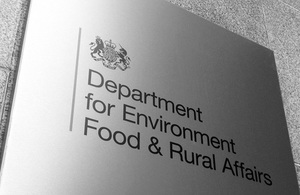 The weekend nuptials were under threat until kind hearted EA workers came to the rescue by using their 4×4 vehicles normally used for travelling across the countryside to get registrars to the big day.
The Environment Agency and Natural England staff have also been using their vehicles to provide support to the emergency services and people in isolated villages cut off by the snow, while staff from National Parks Authorities have showed their festive spirit by helping nurses and doctors get to work and delivering medical supplies to hard-to-reach areas.
Environment Secretary Caroline Spelman said:
"I'm delighted that Environment Agency staff have taken it upon themselves to help out their local communities in this awful weather. Environment Agency staff have worked tirelessly round the clock - helping hospitals by ferrying staff and patients to and from their hospitals; they have driven district nurses and midwives through snow which meant they were able to make vital home visits and helped deliver meals on wheels. Their actions in helping others epitomise the Big Society. In general they have provided help and support where ever they were needed and I know that they will continue doing this as long as they are needed."
A taste of the goodwill staff at Defra's agencies are showing to help out in the snow is below.
South West:
The Environment Agency agreed that Westcountry Ambulance Service could use three Land Rovers and these vehicles have been in constant use. The Environment Agency has been driving staff to and from local hospitals and have even helped a district nurse by driving her to vital home visits around Somerton. Their 4×4 vehicles were used to ferry patients from Derriford to Truro and Liskeard hospitals.
Natural England staff at the Yarner Wood Dartmoor National Nature Reserve used 4x4s to take two women from the local community into Bovey Tracey for supplies. And NNR staff are also watching over other landowners' livestock where access for them to visit themselves is difficult.
South East:
Three Environment Agency 4×4 vehicles have been used to drive Care in the Community workers around the Folkestone/Canterbury area to attend the elderly and infirm.
On Sunday, four Environment Agency drivers collected nurses in the Canterbury area and took them to Margate's Queen Elizabeth Queen Mother Hospital.
Six Environment Agency vehicles have been delivering meals on wheels throughout Kent.
The Environment Agency has been helping Surrey County Council and the NHS to get to people in need. They helped move one person from their own home to a nursing home and drove a district nurse to her home visits.
Midlands:
The Environment Agency has been helping to get staff to Cheltenham Hospital.
North East:
Northumberland National Park staff are continuing to support the health service with deliveries of drugs and key personnel in the remote rural areas as result of the severe weather. Additional National Park Authority 4×4's are available should they continue to be needed by the likes of Health Visitors or volunteers of the National Park Fell Rescue Team.
Published 21 December 2010