Press release
Environment Agency raid on illegal transfrontier waste shipment
The Environment Agency and partners raided a site on the Essex and East London border, to tackle illegal waste exporters.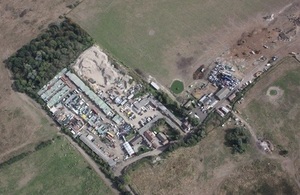 Greenstore Ltd is a large storage facility at Baldwin's Farm, Upminster, Essex where containers are rented out to individuals and companies for storage. The Environment Agency had information to suggest that the site was being frequented by criminals to store Waste Electronic and Electrical Equipment (WEEE), and stolen goods prior to illegal export.
Environment Agency officers entered the site on Wednesday 12 October 2016 and opened the storage containers, using force where necessary. They found activities which could harm the environment including:
1000s of pieces of Waste Electronic and Electrical Equipment such as broken fridges, computers and televisions ready for illegal export to Africa
more than 900 stolen gas bottles worth more than £50,000, some still containing gas, which are banned for export
stolen cable, vehicles and plant, including a machine stolen in December 2015 which was one of only 50 in the world
The laws covering waste exports are strict but clear – it is illegal to export hazardous waste such as Waste Electronic and Electrical Equipment (WEEE) to non-OECD countries. The maximum penalty for exporting waste illegally is an unlimited fine and/or a prison sentence.
The Environment Agency was joined by Police, Immigration Enforcement, Calor Gas, Synergy, Flow Gas, HMRC, NaVCIS, the Met and Essex Police stolen plant team, whilst London Fire Brigade and Essex Fire Brigade were also on hand to provide support and ensure safety of the site.
As gas bottles are always the property of the brand owner any attempt to export them is against the law. Undeclared hazardous goods such as these pose a significant risk to shipping and ports.
Chris Smith, National Intelligence Manager, whose team led the operation for the Environment Agency, said:
The sheer volume of material that we and our partner organisations found today and prevented from being exported illegally is a big win, but the battle isn't over. Today's action sends a strong message that we will track down those involved in illegal waste activity.

The effects of exporting waste illegally is harmful to the environment and the economy. It undercuts legitimate businesses and causes harm to human health and the environment in destination countries where it is often burnt in open fires to recover precious metals.
Waste crime is a serious issue diverting as much as £1 billion per annum from legitimate business and treasury. Since April 2011 the Environment Agency has invested £65.2 million in tackling it.
Anyone with information about suspected illegal waste operators should call the Environment Agency's incident helpline on 0800 807060 or call Crimestoppers in confidence on 0800 555 111.
Published 19 October 2016