Press release
Environment Agency limits pollution damage to Lewes stream
Environment Agency teams in East Sussex responded to a serious incident near Lewe when approximately 20,000 litres of slurry entered the Plumpton Mill Stream.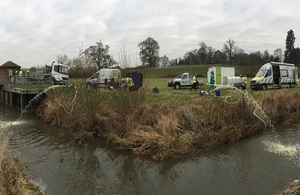 Having been notified of the incident at 8:15am on Wednesday 30 November 2016, pollution officers took samples to identify the source of the slurry which had entered the Plumpton Mill Stream, a tributary of the River Ouse. To reduce the impact of the pollution, water flow at local weirs was held back and the watercourse was oxygenated using aerating pumps.
Operations continued through to the weekend with the Environment Agency increasing the flow of water to move the remaining pollution downstream. At the same time, evidence was gathered for any future legal action. Although the majority of slurry was contained, 1,200 fish have been recorded dead, including sea trout, brown trout and coarse fish. The Environment Agency has previously worked closely with the Ouse and Adur Rivers Trust to improve the river environment in these important trout streams, including investment in eel passage and fish refuges.
James Farrell, Area Duty Manager at the Environment Agency said:
As a result of early reports from the local community, we were able to respond quickly to reduce the impacts to fish and wildlife and stop the situation escalating into a much worse incident.

Clearly we are very disappointed that so many fish have died, but we will work with local partners to help the environment recover. Members of the public are reminded to report any pollution incidents via our hotline: 0800 80 70 60.
Published 6 December 2016