Press release
Environment Agency launches Soil "Speed" Awareness Courses for Land Management offenders
The Environment Agency has recently launched the first of a number of planned soil awareness courses in Herefordshire.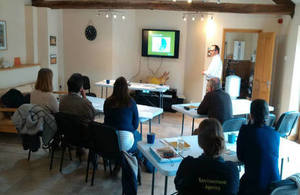 These take a similar approach to a driving speed awareness course and are aimed at Farmers and Land Managers where issues associated with soil run-off and water pollution have been identified. Farmers may also be referred to attend the course where breaches of the soil protection standards are identified under cross compliance, which could also mean a reduction in the basic farm payment.
Depending on the severity of the issue the farmer or land manager will be offered the option of attending the course instead of immediate enforcement action by the Environment Agency.
In Herefordshire there are significant issues with soil erosion from agriculture which is impacting on the quality of the water in the River Wye and Lugg, which is also a special area of conservation.
Approximately 50% of the phosphate comes from agriculture soil run off and by reducing this it would make a significant improvement to the water quality in the area.
During the course farmers and land managers are made aware of the consequence of soil from farmland ending up in the river system, and the subsequent impact on the environment and the potential cost to the farmer. A site improvement plan with an agreed timescale is also created with the farmer to look at how to resolve their specific issue.
The Environment Agency hope this will encourage farmers to reduce the soil run off from their land, but if there is no sign of improvement within a given time scale, we will not hesitate to take enforcement action.
The feedback from the first course has been really positive. It is hoped this course will be able to educate people and so that the Environment Agency and landowners can work together to rectify these issues in Herefordshire.
Andrew Osbaldiston, Environment Agency Catchment Coordinator said:
These courses are being trialled as a new approach to the way we carry out our regulatory activities. Whilst we are working with key partners to help inform Land Managers on their responsibilities to prevent soil erosion, we also need to regulate where there are significant non-compliance issues associated with soil loss to our watercourses. We are hopeful that the introduction of these courses, combined with other collaborative working will help deliver the necessary environmental and economic improvements within the Wye Catchment.
If any members of the public witnesses large amounts of soil washing off fields into nearby watercourses or other pollution events please contact the Environment Agency on our freephone incident hotline 0800 807060 where your calls will be treated in confidence.
Published 20 April 2016