Press release
Environment Agency keeps promise to complete Somerset dredge
The Environment Agency kept its promise to complete the 8km dredge of the Rivers Parrett and Tone in Somerset by 31 October.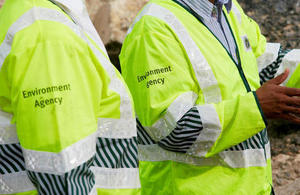 Around 130,000 cubic metres of silt was removed from the two rivers during the 7 month dredge. The work will help reduce the likelihood and duration of flooding to properties on Curry Moor and North Moor, on the A361 and the West Coast mainline.
The Environment Agency continues to emphasise that flooding on the Somerset Moors and Levels can never be prevented altogether.
Craig Woolhouse, Deputy Director of Flood Incident Management said:
Our staff and our contractors Land and Water Services have worked extremely hard to complete this project on time.
I'd also particularly like to thank local people for their patience over the last few months. Together we've completed one of the first actions for the 20 year Somerset Flood Action Plan, co-ordinated by Somerset County Council.
We are now working closely with the Somerset Drainage Boards Consortium and Land and Water Services to share lessons learnt from this project. This information will help shape how this stretch of river is monitored and maintained in future.
In addition to the dredging project, flood damaged defences across Somerset have been repaired, or are nearing completion, ahead of winter. Completed work includes bank repairs to the River Parrett at Langport and Cocklemoor.
Work is also underway at Dunball, to allow us to bring in additional pumps should they be needed, and other sites such as Aller Drove, Saltmoor Pumping Station and Aller Spillway which are all nearing completion.
As the dredge reaches a conclusion, the Environment Agency launches its national Flood Action campaign. Communities across the country are urged to visit www.gov.uk/floodsdestroy to find out how they too can prepare to take action in a flood.
ends
Notes for editors:
• Residents will continue to see the Environment Agency's contractors on the Somerset Moors and Levels as they demobilise equipment and tidy up after the dredge, as well as complete other flood repairs.
Published 3 November 2014