Press release
Environment Agency issues severe flood warnings in northern England
Environment Agency has issued severe flood warnings, which indicate a possible danger to life, to communities in Cumbria and Lancashire.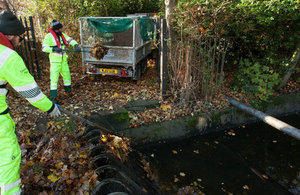 The towns of Kendal and Egremont are being warned to take immediate action and prepare for property flooding, following high volumes of persistent, heavy rainfall expected today and throughout Sunday (15 November).
Today (Saturday 14 November as at 22:00) the Environment Agency has issued 6 severe flood warnings for Egremont and 6 severe flood warnings for Kendal, along with flood warnings across northern England. River levels are extremely high and are forecast to continue to rise.
Further rainfall
Successive bands of rain are expected to continue until Monday, causing river levels to rise across the north of England. Further heavy rainfall is expected next week.
Environment Agency teams remain out in force day and night, maintaining flood defences, preparing temporary barriers, deploying sandbags along riverbanks, clearing river blockages, monitoring water levels and sending out flood warnings.
Additional Environment Agency staff from across the country have been deployed to provide extra support in affected areas.
Those who are planning to travel are warned to check the flood risk for their journey before they set out and should not attempt to drive through flood water.
Craig Woolhouse, Environment Agency Director of Incident Management, said:
Heavy rain is falling on already saturated ground causing rivers to rise and bringing a risk of flooding across the North West. We urge people to check the risk of flooding in their area, sign up for flood warnings and be prepared to take immediate action.
Our teams are working around the clock with communities at risk to prepare for flooding and maintain flood defences.
Keep up to date with the latest situation or follow @EnvAgency and #floodaware on Twitter for the latest updates.
Published 14 November 2015