Press release
Environment Agency help River Windrush be winter ready
An Environment Agency field team has recently finished re-aligning the Newbridge Cut away from the River Windrush.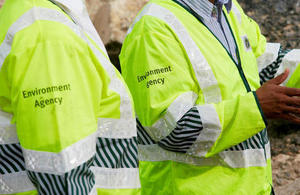 In addition to this they also are reinforcing the bank of the River Windrush near Standlake in Oxfordshire. The work forms part of a programme of maintenance works in the Thames Valley to ensure that rivers and assets remain in good condition over the coming months.
During routine inspections, Environment Agency officers discovered that an embankment located between the River Windrush and the Newbridge Cut near Standlake had been eroded to the point that the slope facing the Windrush was vertical and undermined in places. The embankment was at high risk of failing during high flow conditions.
Gareth Simpson, Flood and Coastal Risk Management Officer from the Asset Performance Team said:
The embankment was particularly narrow at this point which left it vulnerable in flood conditions. By re-aligning the Newbridge Cut away from the River Windrush and reinforcing the bank of the Windrush, we have significantly reduced the risk of floodwater breaching the embankment and flowing to nearby properties.

Erosion is an ongoing process so the situation would only have worsened. Our team worked quickly to re-align the Newbridge Cut and reinforce the riverbank. We recycled the spoil created by excavating the new alignment by using it to widen the existing bank.
The erosion is partly due to the embankment being on the outside of a bend in the river and partly due to it being comprised of un-vegetated granular material.
110 tonnes of rock armour was also imported to the site and placed along the left bank of the Windrush to further protect and reduce the rate of erosion.
Keeping rivers clear from the build-up of gravel, plants and debris forms an important part of the Environment Agency's river maintenance plan, in order to maintain the required standards of flood protection in priority flood risk areas.
River channels are inspected annually to identify any maintenance work required. Upstream of areas at flood risk, the Environment Agency monitors the river capacity and bank condition as well as removing trees and other debris that could cause blockages downstream.
Notes to Editor
Photos available upon request
The Environment Agency is not the riparian owner of this section of river. Permissive powers and resources are used to act on the riparian owner's behalf.
The Windrush starts in the Cotswold Hills in Gloucestershire northeast of Taddington, which is north of Guiting Power, Temple Guiting, Ford and Cutsdean. It flows for about 35 miles (56 km): through Bourton-on-the-Water, by the village of Windrush, Gloucestershire, into Oxfordshire and through Burford, Witney, Ducklington and Standlake. It meets the Thames at Newbridge upstream of Northmoor Lock.
All media enquiries: 0800 141 2743 (please ask for the duty press officer) Or email us at: southeastpressoffice1@environment-agency.gov.uk Follow us on Twitter: @EnvAgencySE
Published 17 November 2016