Press release
River Thames Scheme: public events at Sunbury, Molesey and Teddington
The Environment Agency and partners are holding public events to hear residents' views on proposed works at Sunbury, Molesey and Teddington weirs.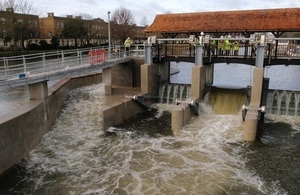 The public events will give local residents the opportunity to view the proposed improvements for the weirs and to provide the Environment Agency with their opinions and feedback. Environment Agency experts will be on hand to discuss the project, with displays showcasing important information on construction timescales, location of works and the planned changes for each weir and its immediate surroundings.
| Date | Location |
| --- | --- |
| Tuesday 15 March | Sunbury Court Conference Centre, Sunbury-on-Thames TW16 5PL |
| Wednesday 16 March | Molesey Boat Club, Barge Walk, Easy Molesey, KT8 9AJ |
| Tuesday 22 March | Tamesis Sailing Club, Trowlock Way, Broom Road,Teddington TW11 9QY |
You can drop in any time between 4pm and 8pm, there is no need to book in advance.
The events are open to everyone who has an interest in the scheme. Attendees will also be able to find out more about the wider River Thames Scheme and how it will reduce flood risk for 15,000 properties in the area. Samina Khan, the Environment Agency's Programme Director for the River Thames Scheme said:
The support of the local community is crucial in helping us reduce flood risk to the thousands of properties between Datchet and Teddington.

This is a unique opportunity to find out about the designs for the weirs. Members of the public can also discover more about the project and how the Environment Agency plans to construct the flood channel in 3 sections, provide property level products to make homes more resistant to flooding, create major and local flood plans, as well as a number of other benefits to this area.
The Environment Agency is working with 7 local councils to deliver the programme. Residents who come to these events can also find out if they are at risk of flooding and what they can do in their own properties and communities to reduce the risk. Everyone attending the events will be invited to join a mailing list to receive regular updates on progress, invitations to future events and be notified of any consultations. Samina Khan added:
We really look forward to meeting local residents and all interested parties and hearing their valuable views and opinions.
The proposed weir improvements form part of the River Thames Scheme, that will will reduce flood risk for all communities between Datchet and Teddington.
For enquiries, please email rts@environment-agency.gov.uk.
Published 10 March 2016