Press release
Environment Agency clamping down on illegal waste sites
Illegal waste sites came under the spotlight across the South East on Saturday (28 Nov) in a day of action to crack down on waste crime.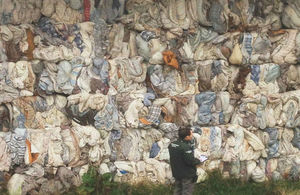 Environment Agency officers visited around 25 sites and industrial units across the South East as part of Operation Rooster. Further investigations are ongoing into several of them, which may result in enforcement action.
The operation involves targeted action against illegal waste sites. This was the first of 4 days of action which will take place over the next few months.
Visits were made to sites that are known, or suspected of, operating illegally.
Illegal waste operators commit crimes by deliberately flouting the law. Those operating waste sites must have the correct environmental permits in place to ensure the environment is protected.
Phil Henderson, Enforcement Team Leader from the Environment Agency said:
Those who operate illegal waste sites undermine legitimate businesses. Waste crime has a detrimental impact on local communities and the environment.

Operation Rooster sends a message to those operating illegally that waste crime is a serious offence with tough penalties. Sites must ensure they are operating legally or they may get caught out in operations like this.

We take tough action against those who commit waste crime and will not hesitate to prosecute if necessary.
Illegal waste sites can pose a real threat to the environment, contaminating land and rivers with oil and toxic chemicals. They can also pose a risk to human health and blight communities, threatening air quality with toxic fumes from illegally burnt materials and by causing noise and odour problems.
Illegal waste operators also undermine the work of legitimate waste companies creating an unfair playing field for business.
To report suspected waste crime call anonymously on Crimestoppers on 0800 555 111.
Published 30 November 2015