Press release
Environment Agency appoints 4 new resident lock and weir keepers on non-tidal River Thames
These appointments will help deliver service to boaters and boating businesses along the navigable, non-tidal River Thames.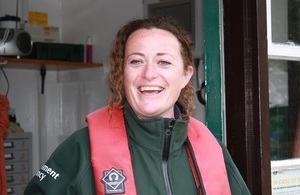 The appointments fill vacancies created through retirements, and all 4 are resident positions. This means the lock keepers are required to live on site in the lock house which, along with the lock itself and the accompanying weirs, forms part of the overall lock site complex. The Environment Agency owns, maintains and operates 45 such complexes along the river.
Barry Russell, River Thames Waterways Manager said:
I'm delighted to announce these 4 appointments. Along with 2 other full-time lock and weir keeper appointments we made in earlier in the year, they underscore our commitment to retain resident lock and weir keepers at sites where there is an operational need.
John O'Hara will be the new lock keeper at Radcot Lock near Faringdon in Oxfordshire; Mark Winks at Osney Lock in Oxford, Aiden Mahon at Iffley Lock, also in Oxford; and Katie Marshall at Romney Lock, near Windsor in Berkshire.
Mark and Katie are already resident lock and weir keepers; at Northmoor Lock near Appleton, and Benson Lock near Wallingford - both in Oxfordshire - respectively.
John and Aiden are currently 'relief' 'keepers, which means they provide support and cover for residents when they are on a day off, on holiday or unwell, and travel to wherever they are needed from their own homes.
Barry continued:
John, Mark, Aiden and Katie are all high calibre individuals – experienced, capable, diligent and very well thought of by boaters and colleagues alike. I'm really pleased they all got the moves they wanted, which they fully deserve.

I'm also pleased for the communities they are moving into, and which I hope they will part of for many years to come – as were their predecessors, who between them, gave us nigh on 75 years of sterling service.

That's Kevin Roberts at Radcot, Ray Riches at Osney, Iain Westwood at Iffley, and Dave Ford at Romney. They will all be missed - but I genuinely couldn't wish for 4 better people to take on their roles.
John, Mark, Aiden and Katie will move to their new sites, and into their new homes, over the coming weeks.
Published 17 October 2016