Press release
Environment Agency and Floods Minister test flood response
The Environment Agency has been testing its emergency response to flooding at six locations around the country today (Thursday 17 September).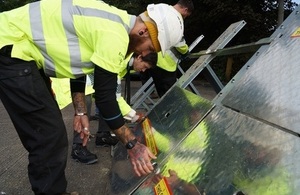 240 staff and Floods Minister Rory Stewart took part in the exercise by constructing temporary barriers, testing pumps and manning incident rooms in a scenario based on the severe flooding of winter 2013/14, the wettest winter in 250 years.
John Curtin, Director of Incident Management, at the Environment Agency said:
Temporary defences can be extremely effective in protecting people and properties against the devastating effects of flooding. We're really pleased that the Minister could take part in today's exercise, which was a great example of how these defences can be put into action when flooding hits.

Although temporary defences can reduce the risk of flooding they may not be able to stop all floods. We still urge the public to take action to protect themselves and their property. They can sign up to the Environment Agency's flood warning service by calling 0345 988 1188.
One of the locations where more than 200m of temporary barriers were tested was Guildford, where Floods Minister Rory Stewart was involved in their construction along Mary Street, which can be vulnerable from flooding from the nearby River Wey.
Floods Minister Rory Stewart said:
Today's exercise is an excellent example of how the Environment Agency is taking action to better protect homes from flooding in Guildford and across the country.

With the EA's innovation in technology through improved flood mapping and forecasting, robust temporary defences, pumps and highly effective staff – our response to flooding should be stronger than ever.

I also know we can go further. That's why this Government is investing in flood protection at record levels, with an unprecedented six-year commitment of £2.3 billion for new and improved defences to better protect an additional 300,000 homes.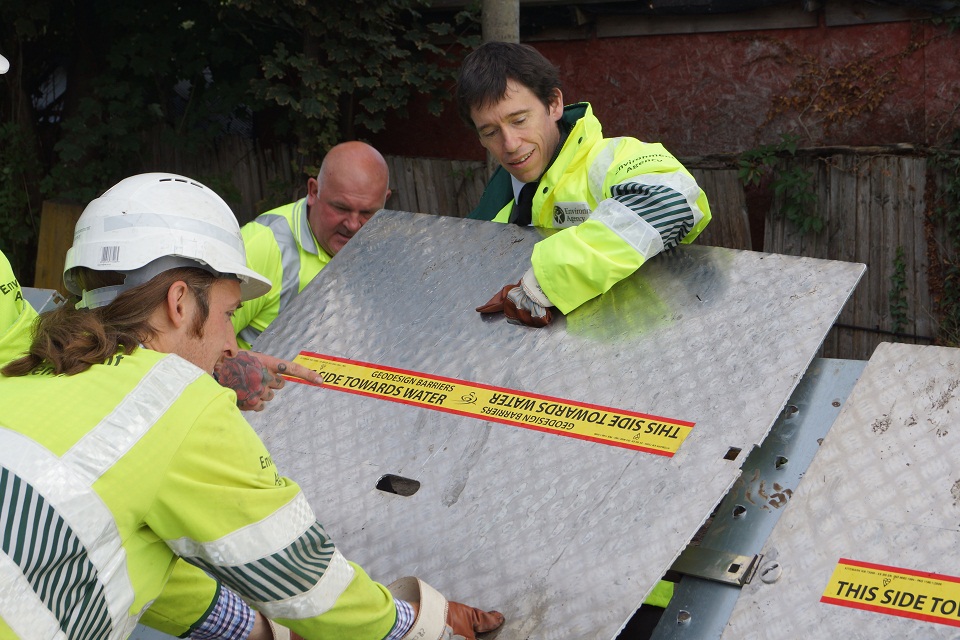 Thanks to improved flood mapping and forecasting techniques, temporary defences were successfully used during the winter 13/14 floods to protect many communities across the country alongside traditional flood risk schemes which protected more than 1.4 million properties.
The Environment Agency is now exploring the use of temporary defences in 65 locations around the country where long-term solutions to flooding are still being investigated. Temporary defences are used to block flood water before it reaches a property and can be transported to where they are most needed during a flood.
Temporary flood barriers were also tested in Romsey, Canterbury and Rye as part of Exercise 'Obex' – the Latin name for 'barrier'. The barriers can be used as an interim solution in communities at risk of flooding.
Published 17 September 2015